Welcome to the History Department
The Latest Hanover Historical Review is now online!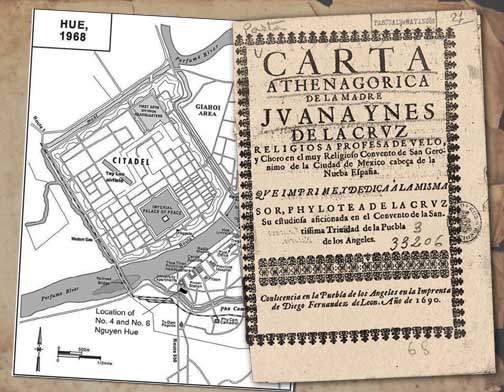 The latest HHR includes "Outstanding Freshman History Essays" (on the Easter Rising in Ireland and on the Hyksos in Egypt), "Outstanding Senior Theses" (on Sor Juana Inés de la Cruz and on the Battle of Hue), and other student essays (on social fascism in Germany, Colonel Chukwuemeka Odumegwu Ojukwu, and the Crusades).
Written and edited by students, The Hanover Historical Review is dedicated to the promotion of excellence in undergraduate scholarship and writing.  A digital version is available, and print copies are available in Classic Hall (812 866-7200).
(To the right are research materials used by students preparing papers for this year's HHR.  For more information see Raymond Lau's memoir and publications by Sor Juana Inés de la Cruz.)
---
Keep in touch!
The history department takes pride in our students' success. We're always glad for you to stop by our offices or email us.  We also share news from the department and interesting historical finds through Facebook.
---
Ongoing Projects
Founded in 1992, the Hanover Historical Review is a student-edited journal of student scholarship. The HHR Editorial Board welcomes submissions of essays, document transcriptions, and book reviews of a historical nature from any discipline.
A student-faculty-staff team is telling the stories of the first African-American graduates from Hanover College through Learning in Black and White.  We'd love for you to join us -- with research assistance or memories or documents.  Please contact historians@hanover.edu if you can help.
The Hanover Historical Texts Collection is the history department's pioneering project to put primary source documents online. In 1995, we were among the first to digitize historical documents for use in classrooms around the world.  We continue to add to the collection, and we are delighted that researchers, students, and other interested readers use it every day.