Welcome to the History Department
A History of Race Relations at Hanover College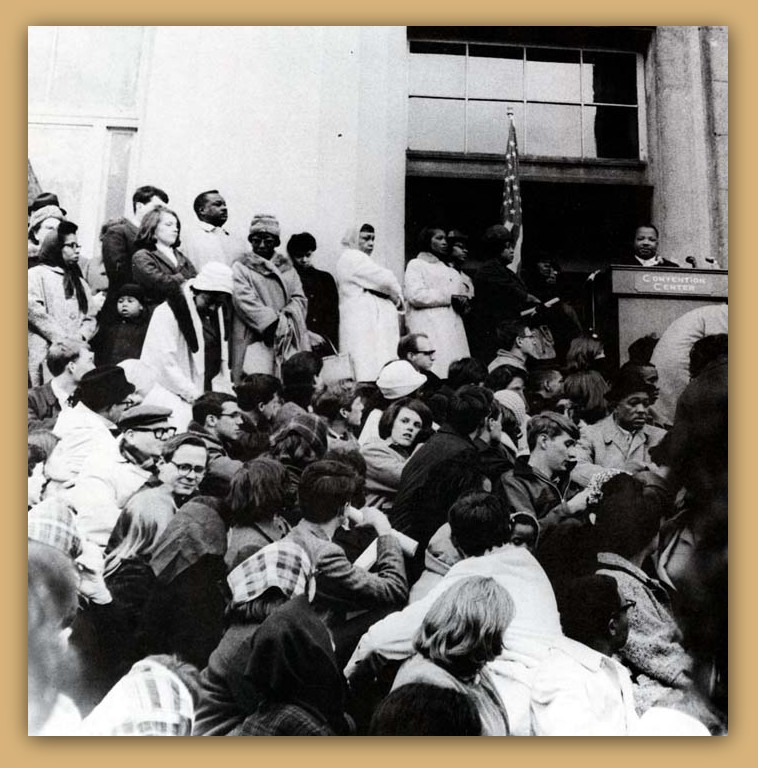 As current events turn our attention to race relations in America, you may want to explore the history of race relations at Hanover College.  Our website "Learning in Black and White" gathers digitized primary sources on that topic, including news stories from students who participated in the Selma to Montgomery March in 1965 and the transcript of a frank and lengthy conversation among African-American students here in 1969. You can also find a brief history and timeline there. The 1965 photo to the right shows Hanover students demonstrating in Louisville about police brutality against civil rights marchers.

For Hanover's experience during the 1918 Influenza pandemic, see Will Werner-Wilson's "The Looming Specter of Death: The Town of Madison and the Influenza Epidemic of 1918-1919" in the 2018 Hanover Historical Review.
---
Keep in touch!
The history department takes pride in our students' success. We're always glad for you to stop by our offices or email us.  We also share news from the department and interesting historical finds through Facebook.
---
Ongoing Projects
Founded in 1992, the Hanover Historical Review is a student-edited journal of student scholarship. The HHR Editorial Board welcomes submissions of essays, document transcriptions, and book reviews of a historical nature from any discipline.
A student-faculty-staff team is telling the stories of the first African-American graduates from Hanover College through Learning in Black and White.  We'd love for you to join us -- with research assistance or memories or documents.  Please contact historians@hanover.edu if you can help.
The Hanover Historical Texts Collection is the history department's pioneering project to put primary source documents online. In 1995, we were among the first to digitize historical documents for use in classrooms around the world.  We continue to add to the collection, and we are delighted that researchers, students, and other interested readers use it every day.
In the News
Former Hanover history professor Xi Lian was featured in a recent Wall Street Journal article on the Chinese government's efforts to weaken and control Chinese Christianity.