Welcome to the History Department
Explore our Fall Course Offerings
The Modern West
Speaking of American History
World Civilizations to 1500
World Civilizations since 1500
American Immigration History
History of the American Midwest
American Military History
Studies in American Indian History
Tsarist Russia
Tudor & Stuart England
Britain in the 18th Century
Greek History
History of China
Countercultures
New American Nation
Nazi Germany
Molly Mersmann returns to deliver O'Brien Lecture
History alumna Molly Mersmann (HC2015) will deliver this year's Cornelius and Anna Cook O'Brien Lecture -- "'It was Yankee Freedom Now': The Tenuous Nature of African-Americans' Freedom in the Wake of the American Civil War," at 7:00 on March 16, in the Duggan Library. More details here
Keep in touch!
The history department takes pride in our students' success. We're always glad for you to stop by our offices or email us.  We also share news from the department and interesting historical finds through Facebook.
---
Ongoing Projects
Founded in 1992, the Hanover Historical Review is a student-edited journal of student scholarship. The HHR Editorial Board welcomes submissions of essays, document transcriptions, and book reviews of a historical nature from any discipline.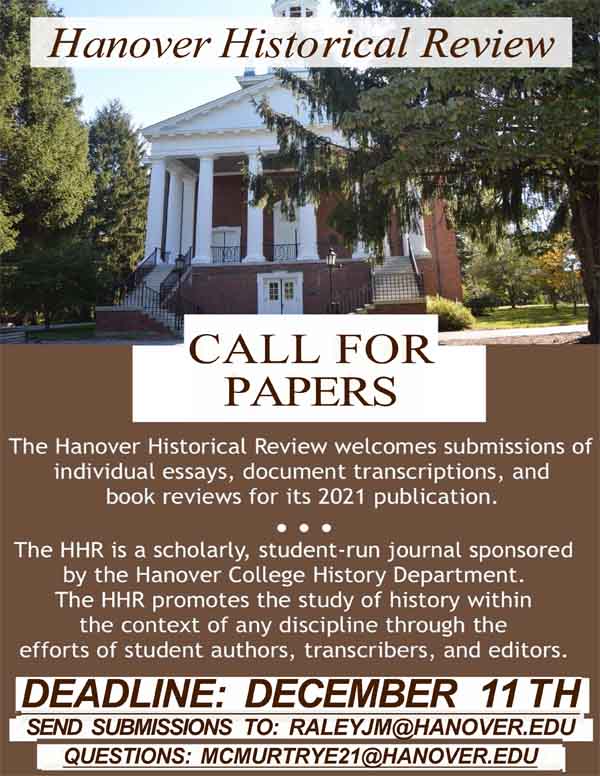 A student-faculty-staff team is telling the stories of the first African-American graduates from Hanover College through Learning in Black and White.  We'd love for you to join us -- with research assistance or memories or documents.  Please contact historians@hanover.edu if you can help.
The Hanover Historical Texts Collection is the history department's pioneering project to put primary source documents online. In 1995, we were among the first to digitize historical documents for use in classrooms around the world.  We continue to add to the collection, and we are delighted that researchers, students, and other interested readers use it every day.