The Elias Riggs Monfort Papers are in the Duggan Library Archives at Hanover College (Hanover, Ind.). They include the Civil War letters of E.R. Monfort and Emma Taylor (who later married him), and their family, especially Margaret Monfort (Elias's sister), and J. Gordon Taylor (Emma's brother). This page includes letters to and from the Monforts. The Taylor letters are also being transcribed.


Hanover students from various history classes transcribed the letters below. We have attempted to transcribe the letters faithfully, including odd spellings, punctuation, and syntax. When appropriate, we have supplied guesses or explanations in square brackets [like so], only occasionally supplying a period or line break when we thought that was what the author intended.


The classes contributing transcriptions include GW143/144 "Autobiography: History" (Fall 2013, Winter 2014, Fall 2014, and Winter 2015) and His167 "Speaking of American History" (Fall 2017, Winter 2018, Fall 2018, and Winter 2019), all taught by Sarah McNair Vosmeier, as well as His225 "Midwest History" (Fall 2016 and Fall 2017) taught by Matthew N. Vosmeier.


For more on the people, places, and events discussed in the letters, see the Guide to the Monfort Letters or the Finding Aid from the Duggan Library Archives. Page images of the letters are also available.




Letters Transcribed Below:
| | |
| --- | --- |
| | |
| 1861, July 10 - Elias Riggs Monfort to Joseph and Hannah Monfort (his parents) | refutes "a base lie" |
| 1861, Aug. 17 - Elias Riggs Monfort to H. Monfort (his mother), | describes scouts "cralling on hands & knees two miles" |
| 1861, Sept. 27 - C. P. Buckingham to E. R. Monfort, | offering position of Second Lieutenant, responsible for recruiting |
| 1861, Dec. 1 - Mac Casterlin to E. R. Monfort | planning a visit in Glendale, Ohio |
| 1861, Dec. 19 - Elias Riggs Monfort to Maggie Monfort (his sister) | describes aftermath of the Battle of Fredericksburg |
| 1862, Jan. 27 - Elias Riggs Monfort to Maggie Monfort (his sister) | describes "very affecting scenes" |
| 1862, Jan. 23 - Maggie Monfort to Elias Monfort (her brother) | exhorts him to prepare for death by committing himself to God and gives other advice |
| 1862, Jan. 29 - Maggie Monfort to Elias Monfort (her brother) | describes her exams at the Glendale Female College; mentions Hanover College |
| 1862, Jan. 31 - Elias Riggs Monfort to Maggie Monfort (his sister) | describes "a soldiers life" |
| 1862, Feb. 10 - Maggie Monfort to Elias Monfort (her brother) | describes college life; reports on regional accents |
| 1862, Feb. 15 - Elias Riggs Monfort to Maggie Monfort (his sister) | describes guard duty |
| 1862, Mar. 2 - Hannah Monfort to Elias Monfort (her son) | marks his birthday |
| 1862, Mar. 5 - Elias Riggs Monfort to Maggie Monfort (his sister) | describes "fit of the blues" and encloses wintergreen clipping |
| 1862, Mar. 11 - Maggie Monfort to Elias Monfort (her brother) | describes sewing and making bandages for the soldiers |
| 1862, Mar. 21 - George L. Spinning to Elias Riggs Monfort (his cousin) | sends greetings |
| 1862, Mar. 28 - E. H. Riggs to Elias Riggs Monfort (his cousin) | describes having "upwards of ten thousand troops"stationed in town |
| 1862, Mar. 28 - Elias Riggs Monfort to Maggie Monfort (his sister) | asks for Harper's Weekly and other reading material |
| 1862, April - Maggie Monfort to Elias Monfort (her brother) | thanks him for carved Bible; attended speeches by Wendell Phillips and Parson Brownlow |
| 1862, Apr. 15 - Elias Riggs Monfort to Maggie Monfort (his sister) | describes marching through "rugged clifts" and "romantic forests" |
| 1862, Apr. 22 - Joseph Glass Monfort to Elias Riggs Monfort (his son) | says he is "well pleased that you are economical" |
| 1862, Apr. 26 - Elias Riggs Monfort to Joseph G. Monfort (his father) | describes the discovery of a "Lieut in the rebel service" hiding in a hay loft |
| 1862, May 3 - Mary McLeish to Elias Riggs Monfort (her nephew) | says she "hopes you will live to return home" |
| 1862, May 6 - Elias Riggs Monfort to Maggie Monfort (his sister) | describes the Battle of McDowell |
| 1862, May 14 - Elias Riggs Monfort to Joseph G. Monfort (his father) | making financial arrangements for a friend |
| 1862, May 19 - Elias Riggs Monfort to Maggie Monfort (his sister) | describes the Battle of McDowell and the "negro preacher" yelling in "tones of thunder" |
| 1862, May 22 - Elias Riggs Monfort to Joseph G. Monfort (his father) | describes finding severely injured men |
| 1862, June 2 - "Ira" to Samuel Ruckman | news of recruitment (damaged letter) |
| 1862, June 12 - Elias Riggs Monfort to Maggie Monfort (his sister) | describes the Battles of Cross Keys and Port Republic -- "Jackson has got away" |
| 1862, June 14 - Elias Riggs Monfort to Maggie Monfort (his sister) | says he is still "on this side of Hades" but "used up" and on "very short rations" |
| 1862, June 21 - Elias Riggs Monfort to Maggie Monfort (his sister) | says that "the Regt is in a very bad fix," marching on half rations or less |
| 1862, July 5 - Elias Riggs Monfort to Joseph G. Monfort (his father) | wants a different position in the army and asks for help through his political connections |
| 1862, July 27 - Elias Riggs Monfort to Maggie Monfort (his sister) | describes slaves "flocking in by hundreds" to Union lines |
| 1862, Aug. 4 - Nathanael Collins McLean, to "Gentlemen" | letter of recommendation for Elias Monfort |
| 1862, Aug. 17 - Elias Riggs Monfort to Joseph G. Monfort (his father) | discusses his efforts to find another position in the army |
| 1862, Aug. 18 - Elias Riggs Monfort to Joseph G. Monfort (his father) | discusses his promotion and efforts to find another position in the army |
| 1862, Oct. 8 - Elias Riggs Monfort to Maggie Monfort (his sister) | describes surroundings as "uninhabited & destitute of everything required to sustain life" |
| 1862, Nov. 6 - Elias Riggs Monfort to Maggie Monfort (his sister) | describes the cold, with "neither tent or blanket"; tells her to reject one of her male visitors |
| 1862, Nov. 21 - Elias Riggs Monfort to Joseph G. Monfort (his father) | needs his watch; wants "to reestablish my shattered character"; describes horrible weather |
| 1862, Dec. 7 - Elias Riggs Monfort to Maggie Monfort (his sister) | below zero weather is "almost intolerable" |
| 1863, Jan. 9 - Elias Riggs Monfort to Maggie Monfort (his sister) | describes Christmas dinner; reports resignations over the Emancipation Proclamation |
| 1863, Jan. 13 - Robert Reily to J.G. Monfort | praises Elias Monfort for his leadership and for avoiding "pernicious vices of the Army" |
| 1863, Jan. 24 - Elias Riggs Monfort to Maggie Monfort (his sister) | describes terrible conditions: wagons stuck in mud,, tents blown away, snow piled up, etc. |
| 1863, Jan. 26 - E. Marthell, certificate for Elias Riggs Monfort | certifies that Elias Monfort does not owe anything to the Commissary of Subsistence |
| 1863, Feb. 2 - Elias Riggs Monfort to Maggie Monfort (his sister) | discusses the Emancipation Proclamation and soldiers' reactions |
| 1863, Feb. 25 - Elias Riggs Monfort to Maggie Monfort (his sister) | reports "being now in command of the Company" since other officers are away |
| 1863, May 6 - George Spinning to Elias Riggs Monfort | criticizes Monfort's "profane language"; plans to attend Hanover after the war |
| 1863, May 8 - Elias Riggs Monfort to Maggie Monfort (his sister) | briefly describes Battle of Chancellorsville; "Genl McLean shed tears" over the loss of life |
| 1863, June 3 - Joseph Monfort to Elias Riggs Monfort (his son) | advises against resigning; "you can perhaps get a majorship in a colored regiment" |
| 1863, June 8 - Sam Ruckman to Elias Riggs Monfort | asks for help in refuting story that he was a coward at Chancellorsville |
| 1863, July 9 - D.L.R. to Hannah Riggs Monfort | describes visitors and his poor health |
| 1863, July 9 - J.W. Monfort to J.G. Monfort | telegram after the Battle of Gettysburg: "Elias wounded severely Come immediately" |
| 1863, Aug. 12 - J.G. Monfort to Elias Riggs Monfort (his son) | on his way to bring Elias Monfort home to recover from his injuries |
| 1863, Aug. 26 - Harris to Elias Riggs Monfort | describes siege of Fort Wagner |
| 1863, Oct. 9 - G.A. Evans to Elias Riggs Monfort | injured soldier describes "bad air and other difficulties" after the Battle of Gettysburg |
| 1863, Oct. 16 - Ben to Elias Riggs Monfort | fellow soldier sends paperwork, reports that Elias Monfort's men "are well" |
| 1863, Oct. 21 - Edward H. Riggs to Elias Riggs Monfort (his cousin) | asks about Elias Monfort's injury; reports that his "family have not been very well" |
| 1863, Oct. 29 - Isaac H. DeLong to Soger | expresses sympathy for Elias Monfort's injury |
| 1863, Dec. 10 - James A. Hardie to Isaac W. Montfort | gives permission to take supplies to Indiana prisoners held by the Confederates |
| 1863, Dec. 16 - James A. Crozet to Elias Riggs Monfort | reports he is not well and that only 266 men from their regiment are "present for duty" |
| | |
| | |
| | |
| | |

Elias Riggs Monfort, letter to Joseph Glass Monfort and Hannah Riggs Monfort, 10 July 1861, folder 4, box 1, Elias Riggs Monfort Collection, Duggan Library, Hanover College (Hanover, Ind.).
Transcription by Sarah Gawronska, HC 2018.
[On the front side of the envelope:]
Lieut Elias R. Monfort
Co F 75th regt O V M
Grafton Virginia
Laurel Hill Va July 10
Com A 6th Reg O V M
Dear parents
We heared a report Here yesterday which cast a gloom over our camp. it was that our reg [regiment] had been in an Engagement & were all killed but 200 & the rest taken prisoners. one of the Captains says he read it in the Cin. [Cincinnati] Commertial.
This is a base lie & was done by some one who had a spite against the reg. if any of the men should find him they would shoot him like a dog.
I was quite unwell for to [two] days back but I am better to day. our troops have the secesshes surrounded & we are placed about two miles from the camp to cut off the their retreat at the only feasible way for them to retreat. our troops amount to about 15 or 16 thousand while the rebles amount to about 4 [thou?] 5 hundred -- we have captured a great many pickets.
Yours
I will give you the particulars when I have more time. address to Com A 6th Reg at Grafton & it will follow the regiment.
ERM

Elias Riggs Monfort, letter to Mother, 17 Aug. 1861, folder 4, box 1, Elias Riggs Monfort Collection, Duggan Library, Hanover College (Hanover, Ind.)
Transcription and research by Jennifer Gilly, HC 2018.
Beverly, Va Aug 17, 1861
Dear Mother
You may think strange of me for not writing to you before but I have writen to sister & Frank & Father & I thought a letter to any one in the family was the same to all & I know that any of the others had more time to write than you. I am enjoying the best health I could wish, I was weighed on monday & weighted one hundred & fifty three pounds. I am getting fat. It is very cold in these mountains at night. it is nothing strange to see frost here in the morning And the people here say they often have frost in evry month in the year. We had a sham battle here the other day one of the most comical things I ever saw. our mess & the sargents mess we had a stove pipe battery & the sargents had some barrells for guns. They fought for a long time we took their battery & they took our fina ly one man fell down as if he were killed & then we had as surgical operation. we raised quite an excitement & all the officers turned out. Even the col[onel] took a good laugh at us the[re] were 27 rifled cannon arrived here last night "en route" for Huttons ville. I thought there will be a large battle there in a fue days. it is only 12 miles from here and three miles from there is a camp of 21 thousand rebbles [sic] under Genl. Lee who has just arrived from western Va and is strongly entrenched in the mountains. Genl. Renolds has about 12,000 men at Huttons ville & has communscation [sic] with 20 000 more in different directions by telegraph who could all be there in 6 hours. I do not think our regt. will ever see a battle unless it is in intercping [intercepting] the retreat of the rebels some where. some of our scouts one of whom was in my mess left camp last monday week where gone about 12 days during which time they was 50 miles the succeeded in passing the enimies [sic] pickets by cralling on hands & knees two miles saw all that was going on in the enimies [sic] camp & succeed in taking a colonel & Leut. Col. prisoners who were taking dinner at a farm house in sided of their lines. one col. tried to hollor [sic] & give the alarm but thew [they] told him if he attempted it again they would kill him on the spot They lay in the bushes all day & at night passed the pickets & came to camp which was 15 miles with nothing to eat for two days & nights. we have 1,080,000 rounds of cartrage which [are?] at rich mountain & 4,000 stands of ammo 4 cannon &c. I am call for special duty and will have to close.
Your Affec. Son
E. R. Monfort
Love to all
P.S. pleas tell father to send me a little money as I need some

C. P. Buckingham, letter to Elias Riggs Monfort, 27 Sept. 1861, folder 2, box 1, Elias Riggs Monfort Collection, Duggan Library, Hanover College (Hanover Ind.).
Transcription by Emily Diehr, HC 2021.
Head Quarters, Ohio Militia
Adjutant General's Office
Columbus, Sept 27, 1861

Sir
The Governor of Ohio has selected you for the purpose of enlisting in a company of volunteers for the US Service. Should you desire to engage in the services, you will repair forthwith to Columbus Ohio, where you will receive the appointment of Second Lieutenant, under which you will enlist and enroll the men of your company -- your promotion to the first Lieutenancy or Captaincy depend very much upon your success in enlisting
C. P. Buckingham
Adgt. Genl
[To] Elias Riggs Monfort
6 Reg. O. V

Mac Casterlin, letter to E. R. Monfort, 1 Dec. 1861, folder 2, box 1, Elias Riggs Monfort Collection, Duggan Library, Hanover College (Hanover, Ind.).
Transcription by Veronica Navarrete, HC 2021.
Liberty
Dec 1st 1861.
Lieut. E. R. Monfort:

My esteemed friend;

According to promise I send you a line this morning to inform of the time when I hope to have the pleasure of visiting Glendale. I shall leave here to regain my Rgt, on the 2 o'clock train next Thursday the 5th inst. If you can be at home I will stop at Glendale. I hope it will be convenient for you to be there for I do not wish to stop unless you are. This will probably be the last opportunity we have of seeing each other- for some time. Please write by return mail and let me know if you can meet me at that time.
In great haste-

Yours

Mac Casterlin

Elias Riggs Monfort, letter to Maggie Monfort, 19 Dec. 1861, folder 1, box 1, Elias Riggs Monfort Collection, Duggan Library, Hanover College (Hanover, Ind.).
Transcription and research by Layne Taylor, HC 2017.

Staffords Courthouse Dec 19th / 61
Dear Sister,
I now write this letter with no hopes of it ever reaching you. We are now at Staffords C.H. 6 miles from Fredricksburgh from which place we have just arrived. We have a very pleasant little Camp in the thickest woods you ever saw of pine & oak. As far as our regiment is concerned we are comfortable though the weather is changeable & very disagreable yet there are thousands lying on the Battle field of Fredricksburgh who suffer more than tongues can tell & none can imagine save those who realize it. And not only those who lay helpless & wounded upon the Battle field undergo those sufferings. But the living those who are in good health. Those who are in the front who have to spend sleepless nights with their arms in their hands ready at a moments notice. I passed through the Campaign at Bull Run & Rapahanock in the month of August while the weather was warm. But we are on the reserve now & are comfortable [--] that is compared with those in front. This of course can not be helped as any one who has been connected with a large army will readily see. I would be willing [to] undergo it all if end we have in view could by it be gained. but this I am afraid can never be or at least it looks precarious at the presant time. Burnside has been sadly beaten & his loss is perfectly terrible while that of the enemy we know nothing of. I received all your letters by Genl Mclean But did not see Mrs. Mclean or Carrie Excuse brevity on account of Cold being out doors

remember me to all I will write again & answer all in a fue days
Yours affectly
ER Montfort

Elias Riggs Monfort, letter to Maggie Monfort, 27 Jan. 1862, folder 1, box 1, Elias Riggs Monfort Collection, Duggan Library, Hanover College (Hanover, Indiana).
Transcription and research by Eddy Wagner, HC 2017.

Parkersburgh, Va

Jan. 27st 62

Dear Sister,

After we parted with you at Cincinnati we were very busy Assisting in loading the Camp Equipage & getting the men on board & keeping them there until we were ready to start. I witnessed a great many very affecting scenes Soldiers parting with their friends & never expecting to See them again. The tears fell thick & fast but there were good pumps on board & we did not sink we started about 6 oclock on our way [ rejoicing?]. at 7 oclock a rich table was spread before us & it was announced to us that officers were entitled to cabin passage A fact which we did not regret being very hungry we did justice to the luxuries of which soldiers do not do not often partake after tea the Lieut Col invited us to indulge in the rich perfumes of some Havana sixes which we lit & then walked up on deck to enjoy the cool brease of evening & take a peep at the stars & see if the looked the same as those that often envite you out to take observations. We returned quite late but rose early in the morning forgetting it was Sunday in the excitement. Thousands of cheers arose from both shores encouraging us on word. We arrived at P ---- at 3 oclock AM Monday but [remained?] on board the boat until Tuesday. Excuse this letter & account of paper & the boat shakes terribly being so heavy loaded send me some stamps as I can not get any here

Your affct brother

E R Monfort

I will write soon again

[Marginalia from on the first page:]

Remember me to Miss [Weakley?] tell Sallie I will write to her soon Love to all My Revolvver shoots to perfection

Write [soon?] Via Grafton

Maggie Monfort, letter to Elias Monfort, 23 Jan. 1862, folder 1, box 1, Elias Riggs Monfort Collection, Duggan Library, Hanover College (Hanover, Ind.).
Transcription by Ricky Windell, HC 2017.

Glendale Female Col. January 23rd

Dear brother

When you read this you will probably be on your way to Virginia. And I shall be at home thinking of you. Shall I ever see you again? It may be that you will return, or it may be that God has designed that you shall fall on the battle field if this is the will of God we must submit. but I shall earnestly beseech him every day to spare you and return you to us again. and if my prayers will avail any thing, there shall many go up to the throne of grace. And liable as you are to be killed almost any moment, should you not always be prepared Are you prepared? I fear not. Do you not think you ought to be? _ _ _ _ Then when will you prepare your self by humbly falling at the throne of God and asking him to pardon you and direct you in the way in which you should go? If you do this you will be so much happier. My dear brother I know that you do not expect to die unprepared but now is the time. You may never have another chance, for God says "Boast not thy self of tomorrow for thou knowest not what a day may bring forth." tomorrow may never come to you. Your life may be o er before tomorrow. Oh then, why not prepare so that if such be the case you may be ready to meet God and render a good account of the talents he has committed to your keeping? Now dear brother do think about this matter. I beseech you. and [crossed out: for] if I Should never meet you again in this world, let me hope that I may meet you in heaven. a ransomed soul. Do not think I would have [you] fear death, and shrink from offering up your life for your country. but all I want is that when called upon to leave this world you may be able to feel that you have a home in the skies and a friend in Jesus. who can never be taken from you. But I hope that you may be spared through the whole and be instrumental in bringing peace to our distracted country. Be careful of yourself and your men. do whatever you consider your duty to yourself and your country. but keep yourself out of unneccessary danger. Be kind to your men. if you see one wearied with his heavy burden, lighten him if you can. if you see any one hungry share your bread with him. and whenever you see any way of helping any poor soldier do it and you will make them love you more. and wish to assist you in anyway they may be able.
And now, dear brother, I have no more time, and all I wish is that you may do your duty and take care of yourself. Write as often as you can.
Goodbye. Your affectionate sister
Maggie E. Montfort


Maggie Monfort, letter to Elias Riggs Monfort, 29 Jan. 1862, folder 1, box 1, Elias Riggs Monfort Collection, Duggan Library, Hanover College (Hanover, Ind.).
Transcription and research by Brittany Slaughter, HC 2018
Letter No. 1
Glendale Female College
Wednesday January 29/th
Dear brother Elias
It seems strange to think that a few day ago you were near home and now you are at the seat of war. I hope you will be better pleased with your destination than you anticipated. We have been anxiously waiting to hear from you but I suppose it is not yet time and I hope we shall hear before you receive this. When you write tell us all about where you are, what you are doing, what you expect to do. I intend to number all my letters to you so that you may know whether [insert: you] get them all or not. Tomorrow and the day after are examination day's. Mr Willson has sent special invitations to persons here, and has written to a great many "clergymen," from Lockland, Redding, Sharon and Springdale requesting them attend, if they could. Sallie Furman and myself are the only ones in the Cicero class, and having finished all we intend to study in this book, we were to [strikeout: have been] examined Friday morning but we went to Father and asked him to excuse us, which he did, because we have so much else to prepare. Tomorrow, I have to be examined on the first four books of Geometry and Friday our classes in Chemistry and Rhetoric. Every young lady in school has to prepare a Composition, [strikeout:and] but Miss Taylor, our section teacher, has excused [insert: us] from writing new ones but is going to take all we have written this year [strikeout: om] select the best of them and put them in the form of a paper, she will write an editorial and other things that are necessary to form a paper and select one or two persons to read it. In this way we will be excused from writing and reading a composition which few persons like to do, and no one but Miss Taylor will know [insert: in] what part of the [insert: paper] the composition of any one is, as there will be no names signed Miss Taylor told us not to tell this as she wishes to surprise the other sections, but I see no harm in telling you as there is no danger of your writing and publishing it, at least not before Friday.
Last night there was a lecture at the church by Mr Day President of the College Hill Institution his subject was the "Genius and the Drudge," Sallie and I went together as we generally do, it was very interesting. We received a letter from Frank yesterday, he seems to like Crawfordeville very much. he [strikeout: joined] entered the Sophomore class, as the course there is a little [insert: higher] than it is at Hanover. Jotham seems to remember his visit to the Camp very distinctly, say's you have houses made of white cloth. Mother wants you to send your trunk key home in a letter [strikeout: as] because she wants to open your trunk and pack away some of your books and other things, she say for you to take a thread and fasten it to the paper so that it cant slip around and wear through the letter. It rained nearly all morning and this afternoon it is snowing fast, but the ground is not frozen and I don't suppose the snow will last very long. I asked Jotham what I should tell you for him, he said, "Well tell him, I am coming to see zim (him) when I get my soldiers sings (things) on, and I am going to stay [strikeout: with] wis zim a little while, just a little while." I suppose he thinks you are still at Camp John McLean. As soon as you get a chance I would like to have you get your picture taken and send it home to me. I am anxious to have it, please do it as soon as you possibly can. don't forget. Father told me to ask you and Frank spoke about it in one of his letters, so don't forget it. Mrs. Furman and Sallie send their respects to you. There is nothing else new here. All send love. Write as often as you can and write long, long, long, long letters.

Your affectionate sister

Maggie E Montfort

P.S. Since writing this I received your letter. We are very glad to hear that you have arrived safely at Parkersburgh. Miss Tracey told me to tell you to look out for her brother. He belongs to the 2nd Carolina regiment. (She does not know whether he is near you or not) but if you ever take him prisoner be kind to him. I am glad your revolver fires well or "to perfection" as you said. For I want you to have every possible chance to take care of yourself. Do your duty but do not rashly go into danger. Good night. Your sister

Maggie.

[Overwritten text: Everyone seems glad to hear that you arrived in Parkersburgh in safety. Write soon and often. and tell me all that occurs where you and the regiment are. I feel interested in them all, but especially for your sake.


Elias Riggs Monfort, letter to Maggie Monfort, 31 Jan. 1862, folder 1, box 1, Elias Riggs Monfort Collection, Duggan Library, Hanover College (Hanover, Ind.).
Transcription and research by Brianna White, HC 2017.
Newburg. Jan 31st
Dear Sister,
I droped you a fue lines on the boat the other day but I had So much on my mind that I could hardly write. We remained at Parkersburgh two days & nights I never was so sick of a place in my life before. I had to be on the look out all the time to keep the men from getting whiskey. This part of the country is under Marshall law & the men some of them do not respect any law when we are in the enemies country & it is hard to controll them. Our camp is situate in a beautiful little meadow 13[en?] miles from Grafton on the B. & O. R.R. at a deserted little town called Newburgh with about 10 or fifteen inhabitant no black smith shop or Hotel in it there is one store in it I am now writing in this store the stock is very extensive wholesale retail dry goods & groceries you could carry all in our spring waggon. The col came around last night & told the boys if the bugle sounded for all to fly to arms. There is not a rebel with in 50 miles from here & if there were we have no cartriges to defend our selves with The weather is delightfull we were realy surprised the morning we left P-- the Golden King of day poured his refulgent rays upon us & the cool morning breeze blowing across the river refreshed us. In less than an hour it began to rain terribly & rained all day at abut 7 o clock it began to clear off & the stars came out to encourage us on ward to victory or death. we lay down that night to sleep in the cars expecting to rise in the morning refreshed But alas how vain are all our hopes. in the morning the snow was 2 inches deep & it had blown in the cars all over us & we were waked again those of us who were unfortunate enough as to get in an open car. Such is life There [is] to much romance in this part of a soldiers life to suit me. Captain Morgan has been sick with the sick head ache ever since we arrived And I have to take care of him besides the responsiblity of the company which is more than I can imagine. I suppose that in the course of a day a hundred men come to me to know if I thought they would be attacked soon I expect Col N C McLean will have us out on Batalion drill to day on the top of some of these hills. if he does wont we have a rich time. I write this on my knee setting on the only camp stool we have left in Mr Smoots stoor by the fire
Excuse Bad writing & spelling as under the circumstances I can not stop to come at or do better
Your Affcc Brother
E. R. Montfort



Maggie Monfort, letter to Elias Monfort, 10 Feb. 1862, folder 1, box 1, Elias Riggs Monfort Collection, Duggan Library, Hanover College (Hanover, Ind.).
Transcription and research by Ashley Templeman, HC 2017. Letter No. 2
February 10th, 1862.
Dear brother Elias,
Your last letter was recieved this morning. I did not know that you company is Company F. it is not as high in rank then as it was before the consolidations is it? Our examinations all passed off very. so every one said to us. I was examined in Chemistry Geometry and Rhetoric I am still in Geometry as we only finished four books last session. and I have taken up Geology and the Senior Literature. I have given up Latin for the rest of this year. Father thinks I study too much for any health. so I have concluded to give it up until next September. then I will recommence it. Sabbath before last Mr Frank Robbins, who used to preach in our chapel for the Glendaler`s. preached in Glendale. from the text. Worship God. Revelations 22:9. it was a very good sermon. He called on us the next day. He is now the settled pastor of a large and promising church in Philadelphia. I expect you remember seeing him last spring when you and Father went to the General Assembly at Philadelphia. We had two new scholars last week a boarder, Kate Elliot from Piqua and a day scholar Lizzie Prague from Springdale [.] Last Tuesday the last lecture of the course was delivered in the church by Mr Rust of the Cincinnati Broadway church. his subject was "How we talk." he first spokes of the provincialisms of New Jersey. Then of New York. New England[,] Pensylvania[,] Virginia. the southern & western States. he said the Yankees. when they want to find our anything. are accustomed to put it in the form of a negative question. as for instance if looking for an old hat. "I reckon. you haint seen nothing of no old hat nowhere about here have you." The Jersey`s. if asked about their health will say. "well I`m about middling." or "right-smart" or if the that is not the case they will say "mighty feeble" or "powerful weak," He said his daughter was out riding with him the other and they passed the place where some one of their acquaintance was buried. his little daughter said "Pa. there is wher Mr _______ is dead at." These and a hundred others were given of the same kind that kept the whole audience in a continual titter. Sallie and I went together It was the last lecture of the course and every one seemed pleased with this and all of the former ones. Dottie Young sends her compliments and wants to know whether you have seen a friend of hers. she did not tell me who and I suppose you know who she means. In your letter you said nothing about your trunk key which I asked you to send if you have it with you[.] If you hav'nt it tell me where to find it, if you know. Also about your miniature. I want one very much and wish you would have one taken and send it. to me by mail. as soon as possible. Last Thursday evening Annie Hughes called for me in her carriage and we went to Mrs Allen`s to the sewing society. the ladies go in the afternoon and sew for the soldiers and the gent`s come in the evening. take tea & spend the evening. we had a very nice time. Last Friday night we had the second meeting of our Philalathean society since its reorganization we all like it very much. The President read her inaugural address and took the presidential chair. all the exercizes passed off well. Last night Mrs Furman and the cook made a long quantity of cakes to send to John William and Charlie. Louis sent them a box and she made them for him to send[.] Mother is very sick with her back worse than she has been for a long time she can scarcely move and suffers a good deal. she sends her love. I hope she will not be sick very long. Miss Miller received a letter from a friend (Miss Elliot) in Indianapolis and in it she say "Sister Flora knows the admired Elias also his younger brother Frank. how do you like them by this time. I hope Elias has not been wounded or killed in any of those horrid battles." from the expressive "admired Elias" thot she has been writing some thing about you. I must close however as there is not another minute before it must go down.
Your affectionate sister Maggie


[As a caption to the stationery illustration:]
An awkward squad of Company F.
Camp Calvary Morris
February 15th 62
Dear sister,
Your letter was recieved yesterday while on duty And having been up all night you must not expect much. As I do not feel in a very pleasant manner by any means. Guard duty is rather a severe way of serving your country though comes only once a week. I am always when ever I am called upon. I stand in rather a peculiar position as an officer. as a general thing have very little to do, and if I should complain of indisposition when I happen to be called upon for duty even if I do happen to feel unwell others think that they have the same prevelage if you give them an inch they will take a foot
Please tell [Dotte?] Young that I have no idea who she has reference to unless it may be Capt Johnson. He is well. You have spoken in both your letters in regard to my miniature how do you suppose I am going to have my miniature taken in this God forsaken Country. there is not a place this side of Ohio large enough to [inserted: build] a house large enough to take a miniature in. And the brooks and the streamlets which comes clashing and dashing down the mountain side are so troubled that I can not look into them without seeing a crooked face.
I am very sorry to hear that mother is sick again I hope she will be up again in a fue days be shure & tell me in your next letter how she is.
Last Sunday myself & several others took a walk to Independance a small town about a mile from here to church after church we took a tramp accross the hills visited the coalmines, and some farmers & became acquanted with some very fine young ladies such as are called fine young ladies in this Country. We arrived at camp in time appear at dress parade. Health is good comparitively so. Excuse Briefness &c. & oblige
Your affectionate brother,
E.R. Monfort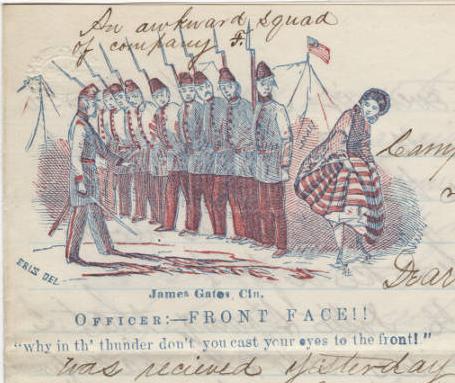 H. Monfort, letter to Elias Monfort, 2 Mar. 1862, folder 3, box 1, Elias Riggs Monfort Collection, Duggan Library, Hanover College (Hanover, Ind.).
Transcription by Sydney Claypoole, HC 2021.
March 2nd, 1862
Dear Son,
Today is your birthday one of those points in our journey through life when we may "pause and consider", when we may look over our first failures or successes, and make new resolves for the future. Whether your time here is to be long or short, twenty years of it is gone, gone in the service of the world, will you not let it be sufficient for that, and from this time, say unto God, "My Father be thou the guide of my youth" Your father preached [strike out: yesterday] this morning from text "We are journeying to the place of which The Lord hath said I will give it you Come thou and go with us and we will do thee good for The Lord hath spoken good concerning Israel, O listen my dear son to the invitation and enroll yourself with the people of God, and consecrate the rest of your life to his service, Do not any longer put off the preparation for the future, lest the time of trial and sorrow come and find you unprepared, you are in a position of danger as well as difficulty, and I entreat you do not throw this letter hastily aside but give a little time to your eternal and highest interests; I desire very much, more than I can express, that you should hold your position with honor to yourself, and benefit to our country, but I long more than that, that all your time, talents, and energy should be spent for the glory of God --

We had a heavy rain last night freezing as it fell and today the trees and shrubbery are bending to the ground with the weight of the ice, and as we sit in our warm houses enjoying the comforts of home we think of you and others similarly situated, exposed and suffering in such weather and we long and pray that this war may soon be brought to a righteous and honorable close,

5th -- I have delayed sending this letter hoping you to hear from you, we have had no word for nearly three weeks I suppose in consequense of your moving position. We are very anxious to know where you are, please write as often as you can, and tell about your movements, you might sometimes send some word about your men that went from here, did you get the stove, Margaret wrote some time ago about your trunk key, you have a good many books and other things here, that I should like to pack there for safekeeping, if you have the key, I think you had better send it, if not[,] mention it when you write, if you send it fasten it with a thread to the paper inside of the letter as that will prevent it from rubing through -- Margaret has not been well for a week past but is getting better she went to Cincinati on the 22nd Feb and took cold. Laura Weakly had Diptheria last week, very severely but is quite well again write as often as you can we think of you constantly much love from all

your loving mother

H. Monfort


Elias Riggs Montfort, letter to Maggie Montfort, 5 March 1862, folder 1, box 1, Elias Riggs Monfort Papers, Duggan Library, Hanover College (Hanover, Ind.).
Transcription by Madeline McElroy, HC 2017.
Camp Milroy March 5th /62
Dear Sister
Your letter was received and read with much interest. Though it produced rather an unpleasant sensation it gave me a fit of the blues, I think you have a great deal of impudence to ask me how I enjoyed the 22nd of February out here in this God for saken wooden country after inummerating the splended review & the Grand Parade and the brilliante illuminations of the city. The happy spectators crowding about the city through the mud regardless health and future happiness only thinking of the present. I will However answer your question on that unfortunate day the Bloody Seventy Fifth might have been seen winding its way carelessly over the Laurel mountains wet to the skin from the rain which poured down incessantly from Eight in the morning till between 9 & ten then it began to freeze & hail after dinner it seemed as if all the Elements were indeed combined to stop yet on we went regardless of any thing but to reach a good camping ground and sending a thousand curses at those who were the causes of our being placed in [crossed out: under] these unfortunate circimstanses. That day I carried one knapsack & two guns besides my own traps making a load of about sixty pounds. Boots would not save a mans feet from being wet on that day as clothes became saturated and watter would naturaly run in them. With all the excitement of the march I kept "cool" rather to cool to be comfortable.
12 o clock and all is well. I have just ordered the guard out and the third relief to their posts and am now waiting for the Corporal to come and report As the weather is very disagreeable and I am Officer of the Guard[,] I have obtained permision to remain in my quarters only going out once an hour [--] twice if nessessary to see that all is well and report such in the guard book. Captain Morgan and Lieut. Crampton are sleeping in the same tent. Even the raging storm out side does not distirb their quiet slumbers O that I could do the same "for my sleepy eye lids are batting batting for my pallet poor". You cannot imagine what a happy felling it is to lie down at night even in our poor couches without fear of being distirbed intil breakfast is ready. Please give my best regards to Sallie and tell her I should like to here from her if she does not intend to answer my letter tell her to write and let me know, Remember me to Miss "O" Sister [Weckly]. I have just been out and find the weather has again changed it is snowing quite hard but the Snow does not have much effect on the mud of which our camp is full. Please send me some stamp &c Give my love all my friends.
Your Affcete Brother
E.R. Montfort.
In this I send you a bunsh of winter green the woods are carpeted with them in many places
ERM
[Note that the dried plants are still with the original letter in the Duggan Library Archives.]



Maggie Monfort, letter to Elias Riggs Monfort, 11 March, 1862, folder 2, box 1, Elias Riggs Monfort Collection, Duggan Library, Hanover College (Hanover, Ind).
Transcription by Noah Marks (and Sarah McNair Vosmeier)
Glendale Female College
March 11th 62
Your last letter was dated February 15th which is a long time ago. We have been very uneasy and troubled at not hearing from you since that time. I hope you are well. We did not know whether you could not have any opportunity to send letters or had written and they have been miscarried or whether you were sick. I still hope and look anxiously every time the mail comes up. I hope you will write soon to me.
It has also been some time since I have written to you, but if you recieved mothers last letter you know the reason. At the time she wrote I was better and afterwards grew worse. I am nearly well now. The news has just come viz: Manassas is evacuated and our troops are in peaceful possession. Everyone is rejoicing, if true it is indeed joyful news. I see by the papers that the Guthrie Grays were assigned to the 1st position in rank at the entry of Nashville, and they placed their regimental flag on the Custom house. They say they wish to wipe out the disgrace of the late stampede. Their flag was very small for the place it was put, but it answered the purpose for which it was placed namely: that the old stars and stripes, dear to every loyal citizen, should [struck out: be] float in the[struck out:ir] place of the secessionists flag. Soon however an old gentleman, true to the Union, brought out the same flag that had hung on the State house for years. All were surprised, for it was thought to have been destroyed long ago. Probably you have not heard how it was preserved, so I will tell you. This old gentleman resides in Nashville, and when our flag was supplanted by that of the secessionists, he obtained it, and in order to preserve it, had a bed quilt made, and it was quilted inside in place of cotton batting. The secessionist heard that the flag was in his possession and went to his house and searched for it, but of course were not able to find it, and thus the old gentleman kept it until the Northern regiments entered Nashville. There are a great many interesting incidents in the papers about the citizens welcoming our regiments. They all seemed to be so pleased to get among Unionists again.
Mother and I were talking about the stampede of the Guthrie Grays, and we were unable to come to a decision as to whether, if you had been in that regiment you would have come home like the rest. Tell me when you write whether you would or not. I am anxious to know your thoughts on the subject. When I spoke about you having your picture taken, I did not of course know much about the kind of country you are in, and the difficulty of having one taken, but if you ever get into a town large enough have it taken and send it to me, without fail.
There is a young lady in Glendale Miss Thursy Wescott, who is a sister of your old Captain in the Guthrie Gray regiment, she is a very pleasant young lady.
This evening at the tea table we were discussing old Dr Dutton of Greensburgh. Do you remember the time he broke his cane over your head? And then said in apology for it that it must have been cracked. And then he used to be forever saying to his daughter, "Sit up Susan, sit up" when in reality she was considerably straighter than he. I think he was a very queer old genius. Do you think so?
We have been having a great time here working for the soldiers in the hospital. We raised a contribution among ourselves, and purchased a bolt (41 yards) of muslin and had it cut out into shirts for the sick soldiers and every evening after tea we meet and sew, while some one entertains us [struck out: a little] by reading something.
We have picked and scraped nearly all the old linen in the house into lint for the wounds. We have made up the bolt we bought and Mr Fosdick has very kindly offered to give us another if we would make it up. We of course willingly agreed, and have received the muslin and are about to make it up also. We have some of the money left but I don't know what we will get with it. By the way I [struck out: accidentaly] discovered the other day that I was scraping lint for the soldiers with a knife mother and Father bought when they first commenced housekeeping twenty two years ago. Little did they think when they bought it that the South would in a few years rebell and try to secede from the North and her son will enlist to aid in suppressing this rebellion and bring back the seceded states, and that that knife would then come in use to scrape lint for the soldiers wounded in that cause. We have such pleasant weather now that it seems that spring has indeed come although the first week of the month it seemed different. My head hurts me very much now, as I have not got perfectly well yet, and brings to me the fact that I have already written to long for its comfort, so as I have come to that part of the sheet which is called the "Good bye corner," I will close. All send love. Write to us some
Your affectionate sister Maggie
[The following is written across the first lines of this sheet:]
Please deliver the enclosed note to [Miss Weatly?]
[post script written across the lines on the first sheet:]
I think I deserve a good long letter from you for the last letter I wrote was a very long one and this one [a sensible?] size. So I shall expect the next one from you to be of a corresponding length. Please don't disappoint my just expectations. How is the health of your men? How do you like your position in Va
I have not been out much lately so that I have not heard of any thing in Glendale. Sallie Garman Miss Furman and about fifty others (too numerous to mention) send their respects to you.
A long Goodnight and Pleasant dreams


George L. Spinning, letter to E. R. Monfort, 21 March 1862, folder 3, box 1, Elias Riggs Monfort Collection, Duggan Library, Hanover College (Hanover, Ind.).
Transcription by Grace Bassett, HC 2021.


Camp Hunter Humbolt.
Allen, Co. Kans.

March 21st ,1862,

E.R. Monfort, Esq.

Dear Cousin:

A thought of you, in a moment of leisure created an impulse, the result of which now lies before you. Knowing your position in the Army, and supposing that you have, long ere this time, been used to "Wars Alarms", I will not intrude, by giving in detail, incidents that are of interest to none, save those who are strangers to them. Having been in active service for six months in Western, Mo, and Kansas, a description of our novel "modus operandi", might interest you, -- but time forbids any thing further on this subject at present. Not knowing your P. O. Address I am not certain that this will reach you.

Your affectionate cousin


Geo. L. Spinning,


P.O. Address. Leav City, Kansas
Co C. Jennisons Reg.
Care Col. D. R. Anthony







E. H. Riggs, letter to Elias Monfort, 28 March 1862, folder 3, box 1, Elias Riggs Monfort Collection, Duggan Library, Hanover College (Hanover, Ind.)
Transcription by Kameron Winter, HC 2020.
Elmira March 28th, 62
My dear cousin Elias,

I have really not had time to write to you before, I have been to school all winter and my time is pretty well taken up with my studies and another reason for not writing is that I have not known where to direct. But a few weeks ago, father received a letter from your mother and she said that she would like to have some of us write to you and so I have taken it upon me. We are all pretty well. Father is better than he has been for a long time and entertains a faint hope of being able to do something for the maintenance of such a large family. There is great excitement all the time about the war but not so much as last summer and fall; we have upwards of ten thousand troops here at two different times last summer and last spring but now there is only one company here of the 14 Regt. Regulars. When the first call for soldiers came we hardly knew what to do. they gave up the churches and public buildings for to quarter them in, and such times I don't believe you ever saw. It seemed as if the scourings of the country were emptied in this town, you could scarcely walk the streets without hearing the most vile and obscene language about every night there was a fight and once there were two soldiers killed in a brawl with some drunken Irish men, but now it is quiet as ever. I wanted very much to go as a drummer in the 64 Regt and for several days thougt that I was going shure but I was not old enough. I have an uncle in the 50 Regt of Engineers which is now in the Potomac. Also a cousin in MO in a cavalry regiment and it makes me feel as if I should like to go.

I have received a letter from cousin Edward Riggs who is now at Princeton collge he says that he likes college life very much he speaks of receiving a letter from home in which he says that they are all well and happy he says that little Charley is very happy notwithstanding he cannot see and that he very quietly submits to Gods's will. Oh, my dear cousin what a blessing that Christ died for sinners to save us poor degraded creatures Oh. you dont know how your mother wants you to be a christian it well nigh kill her if you should die and not be prepared. And then you don't know the strength it gives you to fight. It would be a good thing for you to read the life of Captain Hedly Vicars who fell in a sortie which the Russians from Sebastopol he is a brave soldier everywhere first in danger and first in the hearts of his men.

added to top of first page:
O seek first your heavenly father and then all other things will come easy your affectionate E. H. Riggs, P.S. write as soon as possible.

Elias Riggs Montfort, letter to Maggie Montfort, 28 March 1862, folder 1, box 1, Elias Riggs Monfort Papers, Duggan Library, Hanover College (Hanover, Ind.).
Transcription by Chester Chae, HC 2017.
Camp Milroy W.Va.
March 28th 1862.
Dear sister
I received your kind letter last Saturday but not having than able since writing to write as I unfortunately cut my hand with a hatchet while on duty I had finished Sallies letter before with it. I sent a wooden Bible which I carved cut of Laurel root I hope you received it safe as it is a curiosity that you may prize. There are a great many curious things made of Laurel. I wish you would send me Harpers Weekly and also the magazines and others that will interest me as we get nothing here and do not want any thing that will be of any value after we are through with it as we can not take them on a march we have thrown out a great many valuable articles to fill up mud holes that the waggons might get over safely I will send you two or three punns which you may put in your anonamous box or not as you please. if I knew the names of all the young ladies in college I would make more as I have plenty of time. one company of our Regt was sent out to take some hay from the Rebels they will be accompanied by one compay of the 2nd Va.V.I. I hope they will be successful they cannot help having a fight if they get the hay.
March 30th 1862
I have been delayed in finishing this letter. We had a very pleasant day yesterday But to day it is raining again I received the Bundle you sent me by the sutler to day the letter dated March 11th We took a spy in our camp yesterday he was recognized by a member of the 32nd ohio Regt who coming in from a scout in the mountains remained with us over night
Your affectionate Brother
E R Montfort

Maggie Monfort, letter to E.R Monfort, [April 1862], folder 1, box 1, Elias Riggs Monfort Collection, Duggan Library, Hanover College (Hanover, Ind.).
Transcription by Jazlyn Stanciel, HC 2017.
Glendale Female College [damaged]
Dear brother Elias,
Your last letter was received in [damaged] little bible you sent. I was glad to get them. The bible is very pretty and is carved very well indeed. I did not know you [has?] so much skill. We have had an addition to our household this week. Some persons from the city, who wished to come to the country to board, and asked us if we would take them, which we agreed to do. There were seven came Saturday night and a number of others are expected before long. I sent you some papers last week and in the "World" you will see if you have received them that I have crossed out a piece about a mob in Cincinnati the night Mr Wendell Philips spoke in the Opera Hall. There was some excitement and eggs were thrown, but not until after he had finished speak, and there was no scuffle or anything of the sort, and Mr Philips was not injured by anything thrown or even touched. It was a disgrace to Cincinnati that anything that happened was not prevented by the proper authorities, but the account in the "[New] York World" was very much exagerated and a [damaged] of it is entirely without any foundation. [damaged] did not tell me who wrote that piece signed [Franklin?]." that was printed in the Gazette as coming from your regiment, and I believe you know. For you said in the last letter you wrote to Sallie, that you "would like to see it in print," which seems to me to imply that you have [illegible] & before it was printed
-- [illegible] I send you that Robert [illegible] at last. He and his wife have gone on east on their wedding trip. They will return in about three weeks. We received their wedding card. They will probably reside in Glendale. I send you inclosed the account of the entertainment given in the Opera Hall last Friday night for the benefit of Parson [G.?] Brownlow. They cleared over a thousand dollars. This [ie a flag printed on the stationery] is said to be the colors of the "Knights of the Golden Circle." I think they (the colors) are very ugly, even more so than the flag of the Southern Confederacy (?)
Mr Jenning's Ken Elliots son in law died of the Consumption last Wednesday and was [ buried?] on Thursday. he has been sick over nine [ years?] [Jothsen?] Potter has been quite sick [ but is] better now. All the rest here are pretty [ well?] Last Monday was the day appointed for the Pioneer celebration -- which you know they have every year. Father received two tickets and took me on me of them. The celebration was to be at Dayton. We went up on an extra (excursion) train, which passed Glendale at half past nine oclock . It rained without ceasing the most of the day. But it did trouble us very much. we had a very pleasant ride up to Dayton. Parson Brownlow was on the train and came around and shook hands with us. He looks very pale and weak. When we arrived at Hamilton the Parson made a short speech which was received by the people with loud cheers. The train was then run into the Oxford tracks to show Parson Brownlow the high bridge over the Miami bridge. I expect you have seen, so I will not say any [thing?] about. After passing this we returned to the Cin. Ham and Day track [and] were again on our way toward Dayton. [We] arrived at Dayton at twelve oclock. Parson Brownlow was to have made a speech from the Court house steps, but it was raining too hard so he made it in the depot which was very large. he stood on the platform of a car. he made a very short speech for his throat is affected some way and he can't speak long at a time. After he finished, the Dayton band gave us some music, and then Gen'l Cary from College Hill spoke -- and I'll assure he laid it off pretty fiercely. We got very cold while he was speaking and went and got a carriage and went to Dr. Thomass. We had dinner, had a very pleasant, though short visit, for we had to start back at three oclock. We arrived at home at about six oclock. it was literally pouring down when we got out of the cars. We found the carriage at the depot to take us up home.


Elias Riggs Montfort, letter to Maggie Montfort, 15 April 1862, folder 1, box 1, The Elias Riggs Monfort Papers, Duggan Library, Hanover College (Hanover, Ind.).
Transcription by Diane Jackson, HC 2017.
Montaray Highland County
April 15th, 1862.
Dear Sister,
It seems almost an age since we heard from you or home. We have got into camp once more after some severe marching and sleepless nights. We left our beautiful Camp near Huttonsville on sunday the Sixth of April. I was in command of the rear guard. I was ordered down to the Quarter Master's department one mile & half below camp to force some waggons in to service to assist in hawling our traps over the mountains. I did so and returned to Camp having marched three miles we then started started for [chief?] mountain twelve miles distant when we arrived at 4 oclock P.M. when we camped the night. We arose bright and early on Monday Morning started at 7oclock for the rebel camp camp on the Alleghania Mountains. Which was evacuated by them on the 5th @ distance of twenty five miles. When we started the sun was just beginning to show himself above the the tops of the trees a slight breeze was blowing the air was soft [and] balmy but a little cold. we were fresh and traveled fast at about ten oclock [A.M.] we passed over the Green Briar River a splended stream a very strong currant so swift that is almost impossible to ford it and it roars like a tornado. after crossing the River we passed a beautiful meadow then began to ascend the Green Briar Mountains here truely is a wide field for the artist. Indeed the rough passes the rugged clifts the will [wild] and romantic forests which spreads from noth to south east to west as far as the eye can reach where the ax had never been where none but the hunter or the Indians had ever trod. The roaring of the pines the singing of the birds and the beautiful landscapes rendered our march rather a pleasure than a burden & we hope the frosts & snow had ceased for the season but alas how vain are all our hopes. In less than on hour the whole temperature was changed. it began to rain hail snow & freeze. we passed on down and then began to ascend the alleghania. the ice began to collect on the road & trees so that the roads were almost impassable. we finaly arrived at the camp cold & stiff & very tired. we went to bed early & were ordered on in the morning to crab orchard where we arrived at 4oclock a distance of 12 miles. it still continued to hail & rain in the morning. we went out forageing and captured a secesh mail[,] three days rations of flower[,] feed for horces &c. we returned at night having traveled 12 miles. the next day we were ordered off on a scout to Franklin Pendletown County Va. here we had a horse shot & captured 12 stands of arms one sword &c a distance of 30 miles in two days march & the 13th we started at one oclock for Montaray where we arrived at at 10 oclock on the 14th we had a ficht at this place two men wounded. the Enemy [repulsed]. We crossed the potomac twice in our march in haste.
Yours truely,
ER Montfort

J.G. Monfort, letter to E. R. Monfort, 22 Apr. 1862, Elias Riggs Monfort Collection, Duggan Library, Hanover College (Hanover, Ind.).
Transcription by Amanda Starks, HC 2021.
At Home April 22, 1862

My Dear Son,
I received, as Margaret wrote you $640 and $15 of her for you and others. I paid every one as directed by you and send enclosed notes as you desired. The offer of $200 is all right. I owe you $150.00. We are well pleased that you are economical in expenditure. You may make up your mind that if you spend for trifles you will find you are forming a habit that you will follow for life. I feared much that some of the lieutenants might be prodigal & that your idea of generosity might lead you to keep even with them. I showed your letter to many persons & they all commended you. All said in substance if his life is spared he'll get along. I saw that one man, a near neighbor, looked sad. His son is doing poorly, though he has a good place. On this subject I am well satisfied, but still I wish you to be sure that you have a perfect control of yourself & glory in your self control above everything else. If you do your name will go before you wherever you go in life. If on the other hand you spend money, or take a dram with others it will go before you everywhere. Suppose for instance you wanted a place in JW Hughes Bank. He would enquire of a half dozen who have been in the army with you & learn your habits. If he were told you were always on hand, & had no bad habits, & were esteemed, your success would be certain. -- If your reputation was bad, he would have no place for you. I was told by an experienced & a careful observer that not one in a hundred of the Captains and Lieutenants of the Mexican War were of any account. Most of them are dead and most of the survivors are vagabonds, & he thought it would be so of this war. I believe it myself. I think however that your Regiment & many Eastern Regiments will be exceptions. I heard lately from a gentleman from Virginia that Col. McCleans Regiment has an excellent character, above any other, for good order. Some of the Regiments in Genl Milnys Civision have a poor character. They are wicked, disorderly & drunken -- the dread of the natives.
The money you sent me came in good time, I had suffered for it. We have sixteen boarders not pupils & expect fourteen more in a few days. Dr. Burt of the 7th Church is to be with us and his family.
The piece I send you has reference to Bro. Ray of Indianapolis & the Logan is a son of old George Logan near Hanover.
Bro. Ray and aunty expect to visit Europe in a few weeks & to see your Uncle Elias Riggs and family in Greece. Does your chaplain preach often & does his preaching do any good & get the attention of any of the men? What services do you have? & how often? Nothing would so delight us as to hear that you are a Christian, a soldier of the cross. Surely you ought to give your heart to Christ.
Will you remember to Enquire any time you have opportunity for Carr Baker a lawyer who lived near the battleground of Winchester and Rev. Watt Foote of Romney Virginia both sons in law of my uncle Joseph Glass, I am anxious to hear from them.
Give my kind regards to Mssrs Col. McLean & Maj. Reilly. I saw Mrs. Ruby this morning, taking her son with his little spade to have his likeness taken. They are well. Write oftener. We have heard by the papers that three of the 75 were "badly wounded", & yet we cannot hear [from?] We send papers often which I hope you get.
Your affectionate father,
J.G. Monfort

Elias Monfort, letter to "Father," 26 Apr. 1862, , Elias Riggs Monfort Collection, Duggan Library, Hanover College (Hanover, Ind.).
Transcription by Mackenzie Sims, HC 2021.
Camp at Monterey W. Va.
April 26th, 1862
Dear Father

Having become very uneasy in regard to the money I sent to you. I sent by the chaplin Dr Weakley $645.00 & by letter 20 & have heard nothing from home or money either. I will send you fifty more by our orderly who will be at Glendale between the first and midle of May. if you have any thing to send you will find him willing though I do not want him loaded down as he will have to walk from the R.R. to Monterey which is about one hundred & ten miles. I will try to procure a furlough about the midle of June if possible. This is a very disagreable weather which we are subjected to. We have not seen the sun since we left Camp Milroy on the sixth of April. We have had either rain or snow all this time since & is quite an uncommon thing to have dry feet. Day before yesterday we had snow fifteen inches deep in the morning it began to snow. At ten o'clock it was 5 inches deep. it then began to Rain & settled the snow about two inches. At eleven it began to snow again & at 12 measured eight inches at three measured ten & half at 5 1/2 oclock it measured 15 inches at 6 oclock began to rain & hail at about 12 at night. We were arroused by a terrible Hurricane & thunder storm blowing several tents down & exposing the inmates to the weather for it is impossible to pitch a tent where the wind is blowing. in the morning the snow & watter were about six inches deep & it was impossible to go out side of the tents without getting completely soaked. I was appointed officer of the Brigade guard I marched the men of our regt who were on duty to the Post. & going through a little gulley we had to wade through snow & watter above our knees & you can imagine how it felt so cold that we could hardly stand on our feet after crossing the men got sick & took colds so that of 65 post & pickets I had to detail 27 Supernumeraries before this morning at 8 oclock. I was relieved at 9 oclock & expect to remain in my tent until the weather changes or the watter dries up or until I am detailed for duty.
Rather an amusing incedent occured the other day while some of the boys were scouting some of them have an evil propinsity of looking in every barn belonging to a secesh for chickens or eggs. One of them while looking for eggs felt in a hole in the straw felt a pair of boots pulling them out found a pair of legs attached to them and a body attached to the legs & a pulling it out farther found a pair of Epuletts on the shoulders it proved to be a Lieut in the rebel service who seeing our men coming took refuge in the hay loft & was found there under these peculiar circumstances. we have got to the end of the string the rebels are driven out of our division & I suppose we will be detached by companies & left to guard the different posts all over these hills.
Remember me kindly to all I remain your
dutiful Son
Elias R. Montfort
April 27th 1862
PS Please write soon & let me know about the money
E.R.M

Mary McLeish, letter to Elias Riggs Monfort , letter to nephew, 3 May 1862, folder 3, box 1, Elias Riggs Monfort Collection, Duggan Library, Hanover College (Hanover, Ind.).
Transcription by Joselin Romero, HC 2021.
Cuyahoga Falls May 3th, 1862
My dear nephew,
Your welcome letter was duely recieved, & it made our hearts glad to hear from you once more -- we had lost track of you allgother untill your aunt Martha wrote me you was in company with your Uncle B Ragan -- I had not heard of you being maried -- I hope you have maried happyly -- got a good wife & you will make a good husband -- I would love to see your wife & babies -- I hope you will live to return home to them & that you will visit us after this cruel war is over -- I would love to see Hariat pleas write to her to write to me & give her my post office address Cuyahoga Falls Summet Co Ohio
I hope that Wattson is better ere this I wish he would write to me give our love to Unity Cathrine & Benny when you write or see them -- I hope we will all be permitted to see each other on earth yet if not I trust we will try to live insuch a way as to injoy each other society in a better world then this -- where there will be no war but where all will be peace & love --
Your Uncle McLeish enlisted the 3 of Oct he belongs to the 9 Battery Ohio volunteers under Generel Carter Capt Wetmore they are now in Kentuckey at Cumberland Ford -- or was when I last heard from him which was last wednesday -- he wrote that they expected soon to advance to Comberlend Gap where they expected to meet the enimy -- I wish this awful war was over without the loss of any more lives -- your grandmothers health is very poor -- she is onely able to be around the house part of he time -- She wants to hear from your Uncle B Ragan often. I wish he would write to us often please give our love to him -- I have no family now but your grandma & my own two little girls -- one the age of five and a half the other one & half years old they are nice little compeny the oldest one I call Nancy Elizabeth Ragan she goes to school learns very fast -- the youngest is walking & talking looks like her Pa a very sweet babe. I must now close by requesting you to write to me soon again.
Your grandmother sends a great deal of love to you & your family your Uncle B likewise -- this from your affectionate aunt
Mary McLeish

Elias Riggs Montfort, letter to Maggie Montfort, 6 May 1862, folder 1, box 1, The Elias Riggs Monfort Papers, Duggan Library, Hanover College (Hanover, Ind.).
Transcription by Cody Reister, HC 2017.
Camp at Shaws Fork 6 1/2 miles
from McDouel & 3 1/4 from Top of Shanandoah
Mountain May 6th, 1862
Dear Sister
I received your kind letter two days since But on account of heavy marches have not found time to do any thing for myself The Skirmish you speak of was between company D & company G. on our side & about 1500 Rebels on the other side it was very warm for about two hours & a half the two companies stood their ground nobly one man had to have his leg amputated an other recieved a ball in his breast passing out under the left arm. An other had a ball lodged in his belt plate tearing all to pieces an other had three balls pass through his haversack We left Monterey on the 30th of April arriving at McDouel at 3oclock P.M. here we remained one day. on the morning of the 2nd of May we left McDouel for Shanandoah Mountain and reached Shanandoah at 2 P.M. where we remain until morning sleeping on the ground on the cold top of the mountain.
Franklin Pendleton county May 12th
While writing the above an order came to strike tents as quick as possible and fall in line of Battle this was done in less than ten minutes I rolled this sheet of paper in my blanket & it has got very dirty but it is the only sheet in the company & I must use it we left Shaws fork on the 6th Early in the morning we marched to Shanandoah Mountain 3 1/2 miles When there we recieved orders to fall back to Shaws fork as the Enmy were advancing in large number we did so where orders came to continue our retreat to Calf pasture ridge 9 1/2 Miles from Shanandoah Mountain where the General came up & ordered the 75th back to support Captain Highman battery of Artilery a distance of 6 miles where we threw shot shell & canister among them & scatered them in evry direction we then came back to the bluff where we were ordered to retreat to McDouel 6 miles from shaws fork to the bluff & 6 to McDouel making a distance of 37 1/2 miles traveld in one day The next day we were drawn up in line of battle all all day at 5 oclock we were ordered to attack the Enimy we marched up a terrible hill & attacked them. the 75th fought desperately until half past nine when it was so dark that we could not see the Enimy. we lost in killed 9 instantly several afterwards & 43 wounded. Our company lost two killed Henry Nickle & Jacob Coleman both of Franklin Ohio[,] three badly wounded & 5 flesh wounds. The wounded or badly wounded Sergt Henry Jacobs & Trygood Hurt. & Phillip Nickle. slightly were Louis Eckerle of Glendale Frank Elsessor of Lockland Jacob Loop of Franklin Thomas Hermanson an old man. the Louis & I enlisted on the Hamilton turn pike. the wounded are doing well now the same night after the fatigue of battle we were ordered to retreat & did so all night it was a terrible march in the morning we recieved reinforcements of three regiments & 4 comanies of cavelry & one of artilery under Genl Schauck but still continued our retreat we arrived here yesterday morning pitched our tents recieved an other reinforcement of 4 thousand men one regment of cavelry & 5 batteries of artilery &c a part Gen Benkins driver who will arrive to day with the remander we drove the rebels back to day & they are retreating in disorder. in haste we go on picket tonigh
ER Monfort

Elias Riggs Monfort, letter to "Father," 14 May 1862, folder 3, box 1, Elias Riggs Monfort Collection, Duggan Library, Hanover College (Hanover, Ind.).
Transcription by Jordan Blankman, HC 2021.
Camp at Franklin May 14th 1862
Dear Father
Conrad Wilmer wishes me to say to you to let his wife have $20.00 more of his money as she is out at present. All quiet on potomac Genl Freemont arrived today at this place with the remainder of his army our force is now 21 thousand men & about 19 batteries of Artilery & about 3 Regts of cavalry &c All quiet on the North branch of the Potomac. Rebels retreating & we will following in a fue days
We look for pay master in a fue days again

Yours truly
E R Montfort

E. R. Monfort, letter to Maggie C. Monfort, 19 May 1862, folder 2, Elias Riggs Monfort Collection, Duggan Library, Hanover College (Hanover, Ind.).
Transcription by Alex Weeden, HC 2017.
Franklin, Pendleton county W. Va.
May 19th 1862
Dear sister,
I received your kind & welcome letter to day. I am very much gratified to find that I stand so high in the estamation of my Col. I am truely thankfull to him for for it as I did not expect it. But the old saying always proves true that "fortune favors the ("brave")." (Notice the brave). I suppose you saw our orderly Sergt. at Glendale he has gone home on furlough & promised me to visit Glendale before he returned. I am very sorry to loose Lieut. Crampton. he was my only companion in trouble & in pleasure. I have just bid him good by he left on a a waggon train for Newcreek at one oclock P.M. I feel as if I had lost my best friend it is a misserable life to lead when not on duty to lay on your cot alone in a tent with nothing to do nothing to occupy your mind. I wish you would send me occasionaly a Harpers Magazine or some other interesting litterature for I am as blue as a violet & feel as crabid as a wet hen. I will try & describe the battle of the 8th to you as near as possible. Thursday morning May 8th we were aroused & called in to line of battle by that terrible signal the long roll you never will know what it is to hear a long roll in active service at about 9oclock A.M. a fue Rebels made their appearance upon an adjourning hill after a short time Captain Highman scattered them with a fue cannister & shill from one of his guns. 4 companies of infantry were sent up to see if possible what their numbers were that failed & at about 4oclock the 25th & 75th Regts were sent up we engaged the enimy for three & half hours the 25th opening the battle & then retireing reinforcements were not sent to us at first because the Genl did not think we could our position ten min but we did & with credit to our selves to at about half past eight two regts came up to relieve us the 82nd & the third va or 5 companies of 3rd Va. We had more men killed & wounded in the 75th Regt in that fight than any regt at Pittsburgh landing in the great fight of the war the 75th lost 9 men killed & 43 wounded this may seem small but it is a good many men for one regt to loose we have a Lieut. Thomas in this Regt who was in nine battles in Mexico & say he never was as hot a fight for the same length of time in his life. Our men fought desperately our coller sergt was shot down & a young fellow by the name of Mike Bradie seized the collers & held them up amidst a shower of bullets the colonel went to the flag took it & waived it in defiance at them the Major mounted on a stump & followed & cheered the men until he was quite hoarse. Captain Morgan stood upon the highest rigde & pointed to the men where they could fire to best advantage. I never saw cooler & more daring courage in my life & either read of it.

I saw men fall dead around me & wounded. It seemed as I were in a dream. It seemed so unnatural to see the quiet major waiving his cap & hollowing with his hair flying as if he were a demon & the roar of musketry it seemed as if all the fiends of hell were let loose & were wreaking their vengence upon us. I was arroused by a negro preacher who came with the regt. Who had procured a rifle & was firing a way exclaiming in almost tones of thunder you belong to the deavil & the deavil must have you. God is with us & God will protect us & may other similar
[letter continues, overwritten on first page:]
Things. At at half past eight we were relieved by the 82nd Ohio & 3 Va who kept the rebels in check until we could carry our dead from the field. They however left their dead & wounded upon the battle field. We lost our Lieut Col Constable he was taken prisoner by the rebels after the battle we fell back to Franklin when we were reinforced by Genl Freemont we now have 30000 men & 60 piece of artilery & about two [thousand?] cavelry. I sent by Sergt Crampton $545.00 & my watch. I want father to buy me a cheap watch Hunters case so I will not break so many crystals & send it [asoon?] as he can as I kneed it very much.
Your affect Broth
E.R. Montfort.

Elias Riggs Monfort, letter to Joseph Glass Monfort, 22 May 1862, folder 3, box 1, Elias Riggs Monfort Collection, Duggan Library, Hanover College (Hanover, Ind.).
Transcription by Mia Katzenberger, HC 2020.
Camp Constable Va
McDouel Highland co
May 2nd 1862

Dear Father,

Yours of April 22nd came to hand yesterday together with sisters of the 24 & one from Frank of the 16th I was very glad to hear that you received the money safely as I have been very anxious for some time past in regard to it. I am very glad you are pleased with my economy I am sure though that I could not be other than economical in this country. I am also temperate as there is no liquors of any kind to drink in this country if I were ever so fond of them. Yet I am not I can not imagine what there was in my last letter so plausable as to merit public inspection. I do not think there is much danger of the officers or men of the 75th Regt becoming dissipated in this country You ask if our Chaplain preaches, he has not preached in W Va but once & that was in Neuburgh [Newburg] on the B.&O. R.R. in a church and has not even visited the Hospital. & never thought of going in to the mens private quarters. There were some men in company C members of his own church that complained quite bitterly about his not visiting them while sick in the Hospital. I have nothing in the world against him only I should like to hear a sermon even once a month or six weeks to remind us that there was such a thing as a civilized country on this globe if for nothing else. We are very much fatigued indeed having marched over 186 miles since the sixth day of April. We have been scouting for three weeks daily one of waggon trains has been cut off [and?] destroyed at Williamsville 25 miles from here we were sent out to accertain the truth of the statement we left Monterey at six oclock P.M. Saturday evening we traveled all night over the roughest road I ever saw we arrived at W----- at 10 A.M. Sunday morning distan[ce] traveled 35 miles & if we had been attacked we never would would have retreated an inch we found the waggon train completely destroyed burnt to atoms accept the iron & some wheels which had the spokes & fellows [a section of the outer, curved part of the wheel into which the spokes fit] cut in two with an ax we found 3 men dead & two wounded the train consisted of 30 waggons & one hundred 20 horses loaded with provisions which were taken from the citizens of the valley there were one sergt & 10 men in command of the train the sergt was wounded in 7 places twice in the right arm once in the leg twice in the breast once in the back of the head once in the left hand & once in the penus, the ball taking efect about the center & passing out the end he is well the the wounds are all slight the other man was wounded in three places
[the letter continues with cross-writing on the first page]
we found in the valley 500 head of cattle & 26 horses belonging to prominent cesesh that are in the army which we took to camp we returned to camp in two days much fatigued & retired early I find I can stand more fatigue in bed than on a march
Your affect

Son

ER Montfort


"Ira," letter to Samuel Ruckman, 2 June 1862, folder 5, box 1, Elias Riggs Monfort collection, Duggan Library, Hanover College (Hanover, Ind.).
Transcription by Chanler Lightfoot, HC 2022.
Franklin O June 2d 1862
Friend Sam

Dear Sir

I received [your? (damaged)] containing [damaged] Dollars for which I am [damaged] Many obligations to you [and? damaged] to Bill for his prompt[ness? damaged]

Well sam we [are? damaged] up and at it again I and Ike Reece is busily engaged recruiting for the three [Mas?] service have about 40 men will try to Leave for Columbus by the last of this week if we make it. Which I think we [will? damaged] we wer very sorry [damaged] of the Jacob Coleman [damaged] you cannot imagine [damaged] number of stories the [damaged] is in circulation regarding the axident and it was not until Harve come [damaged] that any thing [damaged reliable?] could had [damaged] this morning bring [damaged] news of the capture [damaged] Royal [damaged] Banks skeddled from [damaged] a Heavy Skermish at [Richmond?] in which our [troops?] were victorious. your folks are all well. Wat Looks as though he would be able to stand most anything the soldier would have to do.

My Respects to Capt Morgan and all the [rest?] of the Boys. Hoping [when?] next I write you [damaged] will be from the tented [damaged] as I think our prospect is pretty Good you must excuse me for not writing you a longer letter as I [am so?] full of Business. [Just?] permit me to [congratulate] you upon your [poor? Damaged] Hope is [damaged]

Your Friend
Ira [damaged]

I expect you fellows enjoyed the meeting with Hailmans Yearlings or the 60th Regt.



Elias Riggs Montfort, letter to Maggie Montfort, 12 June 1862, folder 1, box 1, Elias Riggs Monfort Papers, Duggan Library, Hanover College (Hanover, Ind.).
Transcription by Ethan Hopkins, HC 2017.
Mt. Jackson June 12
Dear sister,
I have heard from you twice or three times since we have been [up?] on the march. We left Franklin on the 25th of May & have been marching ever since we are in a desparate situatuon now in the way of clothing & c. We marched first to Peters burgh a distance of 30 miles then to Morefield 10 miles then to Strausburgh 55 miles there we engage the enimy & drove them back taking a great many prisoners & one piec of cannon. we then followd the retreating rebels as far as Harrisonburgh a distance 47 miles then hearing that then [Ewing?] had made a stand 5 miles farther on [at?] a place called Cross Keys we pushed on & attacked them & fought them all day sunday the 8th Monday we drove them back 7 miles where they succedded in crossing the shamadiah at Port republic & burning the brigde which stoped us. shield fought then on the other side but was whiped with a loss of 1,000 killed & wounded our loss of sunday was 600 killed & wounded the rebel loss was double ours. they left them scatered in the woods we found them on the march Monday we then fell back to HQ 12 miles & then 25 miles farther to rienforce sheilds if possible. on the march we have captured over 8 hundred prisoners but Jackson has got away
get the map & look [up?] our course. in haste. I will give you full particuler when I have more time
Yours Affectionately
ER Montfort
Write twice a week or more so that I may have some thing to keep my spirits up even if you do not hear from me
ERM
Send me some stamps



Elias Riggs Montfort, letter to Maggie Montfort, 14 June 1862, folder 1, box 1, Elias Riggs Monfort Papers, Duggan Library, Hanover College (Hanover, Ind.).
Transcription by Mason Cheng, HC 2017.
Mt Jackson June 14, 1862
Dear sister -- I promised you a minute detail of our march and late fighting which has hardly eased yet but lack paper & time all I can do is to let you know that I am on this side of Hades. We are now in a beautiful country the valley of the Shanandoah which is layed wast[e] by the fates of war. You at home cannot realize what it is go to bed with out supper & get up in the mourning & have to go to some quartermaster & beg a little hard bread or salt Pork for to fill the mouths of hungry children This has been done by men worth over fifty thousand dollars. money will not keep a man a live in this country. since we have been on this march I have seen 3 thousand horses turned in on a wheat field all most ready to cut & pastured there for the might they would utterly destroy the whole field of grain per haps one Hundred acres in the field. We have marched nearly two hundred mieles since the 25th of May & I am completely used up. we are & very short rations now. I succeeded in getting 10 lbs of flour to day at 20 cts a pound & had it baked. it cost after being baked 50 cts per lb & we were glad to get it at that. when I can get some paper I will write more. write soon & oblige
Yours Truly
ER Montfort



Elias Riggs Montfort, letter to Maggie Montfort, 21 June 1862, folder 1, box 1, The Elias Riggs Monfort Papers, Duggan Library, Hanover College (Hanover, Ind.).
Transcription by J. T. Silvers, HC 2017.
[Note that this letter was written on a "U. S. Military Telegraph" form.]
Camp at Shawsburgh June 21st 1862
To Dear Sister
I again notify you that we are not done with marching we have since I last wrote traveled 47 miles makeing in all since the 25th of May 45 miles on foot through mud & watter & with only half rations & some days none. Our regmt now cannot muster over 200 men for a fight 5 captains 2 1st Lieut & 8 2nd Lieut & one field officer which is Major Reily. Col McLean has been promoted he is in command of the 2nd Brigade of which the 75th forms a part. The Brigade consists of the 75th 82nd 73rd & 55th O.V.I. U.S.A. Major Reily was appointed Grand Marsall which left us with out a field officer for two weeks One company has no companies officers. the capt is sick at Claysville Md. the 1st Lieut at Athens ohio the 2nd Lieut at Newcreek. the Regt is in a very bad fix & would not be able to meeet the same number of the Enemy there are at least 50 men that have no shoes & as many more have no blouses or blankets Genl. Traum is a poor excuse for a Genl. or we would have caught Jackson and captured his whole command. Lieut Crampton writes to me that he delivered the money I sent but forgot the watch he has my watch when you write tell me what he said of me & of what we had to undergo also what you are doing. at the time I am writing it is 25 minutes past 9 oclock It gives me the blues to think of what you may be doing this week & I am in va marching all day & sleeping on the groung at that with no blanket & raining half the time
Write Soon
Yours affectionately
E.R. Montfort
[The following was written in the margin of the letter.]
I picked this piece of Paper up on the road with about a dozen others dropped I suppose by the opperative.


Elias Riggs Monfort, letter to "Father," 5 July 1862, Folder 4 Box 1, Elias Riggs Monfort Collection, Duggan Library, Hanover College (Hanover, Ind).
Transcription by Koa Callihan, HC 2021.

Camp near Middletown Va


July 5th 1862


Dear Father

I have not heard from home for several weeks, but suppose you have been buisy settling up your business & collecting your bills. I have just finished the Muster Rolls of the company for pay & am not in a very good humor to write. I wish to make a communication to to you which may seem strange to you the reason that I have never writen to you before on this subject was simply because I did not wish to increase your anxiety in regard to me it is this I am dissatisfied in the company I am now in Captain Morgan is very despotic & severe in his rule also very much prejudiced against me for what cause I do not know but always has been & is getting more so every day

The captain is a very brave officer & a man who is not excelled in the regiment as a capt who always performs the s towards superior officers to the letter he is also a man of much experience & well fitted for the position he holds as an officer but he treats all subordinates as beneath his notice accept when on duty and I consider it [strikeout: beneath] my duty to leave the company I am now in for some other position or for the same position in some other detachment. I spoke to Genl. N.C. McLean. the other day in regard to it & mentioned that I almost considered it my duty to resign. he persuaded me out of it & gave me some very good advice. & I have come to the conclusion that my duty to my country is far greater than to my self. I have had experience & do not wish to leave the services. I would like the position of adjitant in some new regt if it is possible to get it for me I have acted in that capacity in this regt several times & am perfectly acquainted with the duties you may say these things before the Gov Todd & say that I consider it detrimental to the good of services to remain as I am I think he will readily understand the state of affairs + either do some thing for me or ask me to resign


Your obedent Son


E R Montfort


Please attend to this immediately





E.R. Monfort, letter to Maggie C. Montfort, 27 July 1862, folder 2, box 1, Elias Riggs Monfort Collection, Duggan Library, Hanover College (Hanover, Ind.)
Transcription and research by Daijon Johnson, HC 2017

Camp near Speryville.
July 27th 1862
Dear
Your welcolme letters came to hand to day also a circular & catalogue. I can appretiate your happy trip to Bloomingtoon &c. We often enjoy such excursions in this state though perhaps not so pleasant as yours. we are often called up from our beds to go out and meet our prodigal brothers of C.S.A . who have rebeled against their country & are now reaping the fruits of their sins. Is this not really romantic.[?] I suppose you read carefully all the papers contain in regard to Genl Pope is I think one of the best Genl we can boast of. He came here & has gone to work with a will sending out his scouts to harass the enemy scarcely a day passes without seeing some prisoners who are brought in by our cavelry. Genl Pope's forces at the least estimate is now 75 thousand some say 100,000 which may be the case. These things are kept from us which is a wise policy. I wish Frauk would come out see me. James [Ruby?] came to see his father but has returned. We are now encamped on a beautiful elevated spot one mile from Speryville. We have some splended views from here. in the east is to be seen the division of Genl Milroy consisting of two Brigades of 5 Regts each 5 Batteries of artilery & in unerable cavelry. the Beautiful rolling hills & Luxureant Vallies form quite a contrast with the high & rough mountains we have just left. there is not to be seen a fence for severe l miles around the grain is all layed waste & destruction and & [famine] frown at ev ry one who depends on the product of the Earth for surport. A solder considers all that may come with in his grasp his own - - their is scarcely a male in habitant. in the valley. Negroes are flocking in by hundreds since Popes last proclamation they are of great use to us in various ways. I have one cooking for me that I broght from Hultonsville. he is very active & smart only 12 years old. often speaks of when we will get to Ohio. the negroes here think Ohio is a heaven where they will have nothing to do but balk in the sun eat drink & be merry. I wish you would tell mother get me two or three woollen shirts like those father got me just before I started. I want them a dark [color?] also some drawers & cotton stockings as many as you can get. also send me some stamps as they are a scarce article here
I remain Your Affect Bro,
E . R. Montfort

Nathanael Collins McLean, letter to "Gentlemen," 4 Aug. 1862, folder 4, box 1, Elias Riggs Montfort Collection, Duggan Library, Hanover College (Hanover, Ind.).
Transcription by Andrew Clegg, HC 2021.
Head Quarters 2nd Brigade 1st Division
Camp at Sperryville August 4th

Gentlemen,

In making your selections for company officers in the new regiments, you no doubt have considered it important to have officers well qualified to drill the soldiers placed under their command, and in this view, at his request I most cheerfully recommend for your appointment to such post in advance of the one he now holds, as to you may seem best Elias Monfort 2nd Lieut Co F 75th Rgt O.V.I. Lieut Monfort is well qualified by his military knowledge, practical experience, and natural ability to render important service in any new regiment, and his appointment by you would aid the cause so far as the efforts of one officer can do so.
Jo Military Board of Ham County

Very respectfully,
N.C. McLean
Col Comg [Commanding] 2nd Brig, 1st Div.

Elias Riggs Monfort, letter to father, 17 Aug. 1862, folder 4, Box 1, Elias Riggs Monfort Collection, Duggan Library, Hanover College ( Hanover, Ind.).
Transcription by Ethan Miller, HC 2021.
[in pencil: Culpepper]

In Camp 12 mile from C
Aug 17th 1862

Dear Father-
Yours of the 11th came to hand last night and I think this will leave at 10 A.M. to day. I will proceed at once to answer your [crossed out: letters] Questions --
Col McLean did not have the power to nominate me or I would have been safe as I have had sevrel short conversations with him on the subject & he sympathises deeply with me. It was his duty to forward the recommendation handed to him he even delayed this over two months. 2nd I am filling the place & performing the duties of both 1st & 2nd Lieutenantin the company.

3rd No one but the captain has any power to recomend a person for a Lieut in his company. [crossed out: 4th]_ I have talked to Major Reily on the subject & he gave me encoragement saying that he thought it would come out right in the End he also invited me to come to him when ever I wanted any advise on that or any other subject & he would freely give it.

5th No reason has been given & if I speak to the Captain about it he will turn his back & say for me to mind my own affairs & let his alone. I have often told him that it was my affairs & very important ones to but I get a bluff or a cursing & thus the matter stands. I may get the 1st Liutenatcy but I will not even be satisfied with that in this company. No Doubt the orderly Sergt will make a very good 1st Lieutenant but that is not the question with me. Col McLean gave me a recomendation to the military committee which I suppose you have before this time as I sent it off on the seventh from [8pm?]. You wish me to write after every skirmish & battle they are so often & paper so scarce & the [convenances?] for writing in the waggon that I am afraid I can not comply though I will do the best I can. Genl Milroy lost 25 men on picket yesterday taken prisoners. Genls. Burnside & Rufus King have come up since I last wrote you with I think from appearance not less than 40 or 50.000 men this is a quite a reinforcement.

I have never mentioned my troubles to any one accept Col McLean Major Reily & the orderly who sympathises deeply with me. I have to go on duty & must stop.

I am Your affect Son

E. R. Montfort


Elias Riggs Monfort, letter to Joseph G. Monfort, 18 Aug. 1862, folder 3, box 1, Elias Riggs Monfort collection Duggan Library, Hanover College (Hanover, Ind.).
Transcription by Cameron Ray, HC 2021.
In Camp at 12 miles from C-

Aug. 18th 1862

Dear Father

Yours of the 13th came to hand today. It was source of pleasure to me to know that [crossed out: the] my Commission as 1st Lieut has been made but still I never can be perfectly in this company I would willingly accept a 2nd lieutenancy in some other company. But I can not get out of this regiment without promotion Captaincy or Adjitancy Either is all I will accept. A transfer can not be made from a regiment in active service to one that is not unless on account of promotion. As to my remaining in this I would as soon be in prison in Richmond if it were not for my duty to my country. The ordenly requested me to to ask you to inquire at Columbus for his commission if you happen to be there he is the only confidential friend I have her as the officers of different companies keep to themselves while we are in as active service as we are now in we mess together Sleep together & I think him competent to hold the position of 2nd Lieut as as any man in the company or even regiment. I hope you can get me some position. I ask for none that I am not comptent to fill. If you have not sent the commissions please send them imediatly directed to the care of Col McLean commanding 2nd Brigade of 1st Div of [crossed out: 1st Army] Seigles corpse, army of VA, Culpeper VA
& mark it official then it will come safely

Remain yours affect

Son

E R Montfort


Elias R. Monfort, letter to Maggie Monfort, 8 Oct. 1862, Elias Riggs Monfort Collection, Duggan Library, Hanover College (Hanover, Ind).
Transcription and research by Carlton Mhangami, HC 2018


Army in the field, Centerville Va Oct 8th
My Dear Sister
Yours of the 27th of Sept came to hand last night. We are now in the most forlorn & deserted country, I ever saw it is uninhabited & destitute of every thing required to sustain life even of animals we look to Washington for every thing & for some cause or other we often are left with nothing to eat though we never feel as if we never expect to have any more, as is often the case. one consulation with me is if I do not get any thing I will not have to pay for it & thus you see my money is saved. Col.Mclean is at home on furlough now and we suppose enjoying the smiles of his family & praises of his many friends which he deserves. I received a letter from Theod Fitch yesterday the first for six months. He holds one of the best positions in the army for making money & requires a very responsible man. I am glad he has it as he is worthy of It. Tell father I have heard nothing of the watch as yet & am afraid I never will as it is impossible to get a pass to get into Washington & several have called for it & was not there. Two Brigades of Cavelry passed the out post to day to make a raid through the whole country numbering about 7000 men good horses & in fine spirits I will let you know what they do as soon as I learn. We have always been in the out post since we have been in the army & have a better opportunity of seeing what is going on than any one else in reguard to the Enemy. Dr. Mussy called on me this morning before I was up I was in good spirits and looking well. He is the highest grade of surgeon I have ever seen by his straps he ranks as Lieut Col.

I received a letter from Frank to day he is studying hard he says but I thing if he has not improved since he left Hanover he does not [do?] much.

Excuse haste & believe me ever your affect Bro

Elias. R. Montfort.


E. R. Monfort, letter to Maggie Monfort, 6 Nov. 1862, folder 3, box 1, Elias Riggs Monfort Collection, Duggan Library, Hanover College (Hanover, Ind).
Transcription by Graham Denning, HC 2017.
Hay Market Va Nov 6th 1862
Dear Sister
Your letters seem to come less frequent again and I am becoming again a little blue & anxious to return home. More so since Father payed me a visit which was a very pleasant one indeed. Through his influence I was permited to visit Washington & spend a fue days in peace free from all care & duty which always are unpleasant appendages to an officer in an active campaign in the [Enemies?] country. We left Centerville on Sunday Morning camped at Manassas junction & imediately went out to perform Picket duty were much troubled by the Enemies cavelry all night & Proceded to this place via Bull Run Battle field in the Morning where now are camped. the weather is very cold & disagreeable we spend the night in keeping up fires cutting wood &c in order to keep our selves warm. I hope we shall soon get some tents or go in to winter quarters some where as it is impossible for men to survive & remain exposed to to the weather I could stand it very well in the Summer with neither tent or blanket but now I can not
I hope cousin George is getting better I should like to hear from him if he is able to write I am glad Ike succeeded in getting away from Corinth so well

I learned that Charley Kempen was a frequent visitor at Glendale since the war began I do not wish you to encourage him at all to come never invite him to call again & if he [boars?] you with his unwelcome presense tell me in your letters I will write him a letter telling him what a high opinion I have of him & that if he calls again except on business what the penalty will be when I get home. He is to lazy to work to support himself but lives on his father & to cowardly to strike a blow for his country & that kind of men I wish to keep as far away from me as possible.
Excuse haste & bad writing
I am as ever Your Affect Bro
E R Montfort

Elias Riggs Monfort, letter to Joseph G. Monfort, 21 Nov. 1862, folder 4, box 1, Elias Riggs Monfort Collection, Duggan Library, Hanover College (Hanover, Ind.).
Transcription by Abigail Estes, HC 2021.
Chantilly Va. Nov. 21st 1862

Dear Father

We arrived here yesterday from Hopewills Gap a distance of 24 miles in two days march. This is very disagreeable weather indeed almost as bad as it was at Centreville when you were here with us & we are not protected as we were there we have to share the same Quarters as the men had at Centreville which you know something about. I am glad to hear that Grandmother has at last consented to live at Glendale with you I think she could live as comfortable and happy there as at Baggistown I wish Uncle John would have that misserable place. I have been under the weather again for four or five days with an other boil not so bad as the first it is well now though we do not know any thing as to our prospects for the winter some seem to think that we will go into winter Quarters while the majority say we will go South down the Coast as we are detached from the Army of the Potomac temporarily however. I should like very much to cheat the winter by going South though that is merely a rumor and with [without] much foundation either. By the way, what did you do with my watch. I kneed one very much & shall have to purchase one if I do not hear from you soon about it. a watch is indespenseble to an officer of the line & I [it] is very disagreeable to be borrowing one every time I go on duty which is often I received your letter in regard to a position with Genl Renolds nothing would please me more than to obtain it as I would have a horse to ride transportation for more baggage comfortable Quarters to sleep in every night More time that I could call my own & there fore have an opportunity to improve in my manners & to a certain extent my education which I now begin to see has not been improved as it might have been with my opportunities I would have an opportunity of distinguish my self as I know how to control my self in dangerous places & it would be more likely to be noticed as the Genl & perhaps his staff have never seen much service I know how much trouble & pain I have been the cause of at home to you & my dear mother & I wish to reestablish my shattered character & gain a name that you will not blush to own as your sons even if it costs me my life though I do not think It will as fortune seems to favor & the prayers of parents & friends will not be slighted I do not think that I should now live if it were not for them as I have come near loosing my life as several different times. Since you left a gun was discharged by accident the ball passing in to one of the upright poles of the tent I was in & leaning against at the time this was a very narrow escape as the ball passed clear through the pole & fell at my feet as if I had droped it. The Captain is sick with a bad cold in his head & limbs something similar to rheumatism & is as crabid & sausy as an old wet hen while the orderly has the blues about his concussoin & lays in his tent & scolds & complains when he has any duty to perform thinking that some one is working against him. & I to keep my self in a good humor have to laugh at them some times they get mad & sometimes have to laugh how ever I get a long well enough last night the captains tent blew away & he crept in with me & then the ditch around my tent got full & run over & the capt got up the watter falling from his clothes & said I believe I am a regular Jonah & I am going to leave & so he went to Capt Fosters tent & cralled in with him I got all his & my blankets & wrapt myself up & slept comfortable til morning the orderly sat up by the fire in the rain until day light when the storm ceased [Dave?] had a nice time.
I wish when you have time you would occasionaly drop me a line to keep my spirits up

Remember me to Grandmother & Aunt Christy & the rest tell little sister to write oftener as she writes only about once in two weeks.
I hope you will succeed with Genl Morris

I remain your's affect son

E R Montfort

P.S. Please send me some stamps as I am about out & can not get any here


E.R. Montfort, letter to Maggie Monfort, 7 Dec. 1862, folder 3, box 1, Elias Riggs Monfort Collection, Duggan Library, Hanover College (Hanover, Ind).
Transcription and research by Michele Navarrete, HC 2017.
Army in the field Chantilly Va
Dec 7th 1862
Dear Sister
Your welcome letter came to hand yesterday. Winter has come in all his power. The wind has been blowing a perfect tornado for three or four days & still continues we are stationed on a high bluff & have all the benni fit of it. we have no stoves & nothing but shelter tents to protect us from the storm. Our tents are full of snow & the cold is almost intolerable being several degrees below zero & you can imagine the suffering of the men & yet the papers can blow about the administration not thinking of letting the army of the Potomac gointo [go in to] winter quarters. I wish we had a fue such men out here in these shelter tents for a fue days & then Hear what they would say about it after wards. We have very different weather here in Eastern Va from your mild winters in Ohio
the shelter tent is about 4 feet [sqr?] & made of Common Muslin with both ends open afording no protection what ever from the wind or rain they are not large enough for men to lay straight & if they were a protection they would be very uncomfortable indeed. I for one am not willing to suffer as much as I have for the last three or four days. I will come home where I can be comfortable & let those who win the Laurels have [them]. It is to true that we lose 10 men by exposure where we lose one by the enemy. It is so cold I can not write longer.
Your Affect Bror
ER Montfort

Elias Riggs Monfort, letter to Maggie Monfort, 9 Jan 1863, folder 1, box 1, Elias Riggs Monfort Collection, Duggan Library, Hanover College (Hanover, Ind.).
Transcription and research by Trey Sparks, HC 2017.
Staffords C. H., Jan. 9
Dear Sister,
Your welcome letter came to hand today bringing with the fond recolection of the happy past when I had the pleasure of engaging with you all in the festivities of the winter holow days. It would have have done me good to have been with you all. You ask me how I spent my Christmas & New Years days. I scarcely knew when they passed by. In anticipation of Christmas dinner the Captain sent Lieutenant Ruckman to Aquia Creek landing to procure some thing if it was possible. He purchased one pound of butter for 75 cents and priced some other articles among them a goose which $3.00. It had been cooked in Washington and brought up in the river but he concluded he would not get it and came back so I had hard crackers, salt pork, coffee for breakfast. Pork crackers Butter for dinner. Butter crackers & Pork for supper. You can readily imagine how we enjoyed these rare luxuries of life which are so rare to us. Surely Ike must be a happy man to have such a family as he took to the Bible Panorama on his family and complimentarey ticket. Col Constable with 3 captains the Adjutant [and?] two Lieutenants have either sent in their resignations or will immediately because they cannot endorse the President's proclamation. this leaves open a wide field for for the ambitious [juniors?] do you not think so. We have warm political fights on the Negro question in this Regiment and ambition prompts us not to fight to hard for fear of changeing the minds of our Superiors and thereby keeping them in the way of our promotion. Do not say that we do wrong in this for what are men worth in the army who are are continually poisoning the minds of their men and creating dissatisfaction among them. And if for no other motive than the good of the Cause I consider it my duty do all I can to get rid of them.
I was on out Post Picket duty yesterday & do not feel much like writing now and you must excuse all mistakes as I kneed rest and can not of cause do justice to this letter. There is nothing more of importance to write at present. We have heard that Rosencrantz was successful at Murfrees borough] & hope it is true when you write tell me I received a letter from cousin Edward Riggs at Elizabeth N .J. He is well & enjoying his holow days finely Is George at Glendale now[?] if so please tell him to answer my last letter if he can find time. Has Frank [crossed out: joined the army yet] returned to returned to Crawfordsville as yet if so I will write to him in a fue. Tell Sallie to write if her ma is willing
Write Soon & believe me your
Affectionate Brother
E.R. Montfort
I have not time to read this over before the mail goes.

Robert Reily, letter to Reverend J.G. Monfort, 13 Jan. 1863, Folder 1, Box 1, Elias Riggs Monfort Collection, Duggan Library, Hanover College (Hanover, Ind.)
Transcription by Gracie Phillips, HC 2021.
Stafford CH Va
Jany 13' 1863
Rev. J G Monfort

Sir

Knowing that it would be gratifying to you, it has long been my desire to drop you a line commendatory of the conduct of your Son 1st Lieut. Elias Monfort. But being so much occupied in [menchly?] also so much of my time having been taken up with the necessary duties of the Regiment, so long under my sole command, that I have been necessarily detered from doing so.

Throughout the whole of our Western Virginia campaign under [strikeout: Milroy] Generals Milroy, Schenck Fremont – Pope & Sigel also, more recently, in the 11th army camp under Sigel. I have seen much of Elias -- and always have taken an interest in him. He is one of the very few Officers of the regiment who can be said always to have been at their post. In regards the company to which he is attached as one of the best drilled and disciplined companies of the regiment[.] no company I [believe?] has been better held together -- throughout our hard marches, hard fighting and harder fare [--] than Co F. No little credit for this is due to Elias yet of course much is due his sterling commander.
I regard it as a matter of [specia patulation?] to you sir, that your son has escaped the ordinary and terribly pernicious vices of the Army. Profanity, vulgarity, and intemperance.

It pains me to admit that he has been not been with out the example in any one of this Soldierly qualifications before him in this Regiment, and that too, in this high authority and last, the not least your son enjoys the esteem and respect of every officer in the Regiment. My earnest prayer is that he may long live to enjoy the same and to still contribute his valuable services to a cause so worthy. With [great?] respect,
I am your most [illegible]

[Rob?] Reily, Major
75 Reg OVI


Elias Riggs Monfort, letter to Maggie Monfort, 24 Jan. 1863, folder 2 box 1, Elias Riggs Monfort Collection, Duggan Library, Hanover College (Hanover, Ind.).
Transcription by Jack Shine, HC 2018.
Bell Plains Jan 24th 1863
Dear Sister
Your kind letter came to hand to day. You say you wish I could see what a beautiful view you have now at Glendale, & I wish you could see what a beautiful view [strikeout: who] we have here. Mud versus Snow. Just as the little branches peep out from under the snow, [so?] the mules & boys peep out from under the mud, as if afraid to venture far, & some times nothing is visable save the tips of their ears. And as the wind scatters the the snow & drifts it in heaps twists & curls it in fantastic shapes, So is the mud twisted & curld in fantastic shapes by the floundering artilery drawn by those superb & magnificent animals the mules & by the weary & worn yankey whose only Motto is Excelsior. "This is indeed beautiful enough to please the highest conception of a vivid imagination." Your ears are greeted with the sound of mery slay bells. & here also does the music rase with a volumptuous swell." The sound of the driver singing to their teams when they get stuck in the mud mingled with rich tones of that musical instrument his whip & the merry laugh & the home sick soldier the rich martial music comeing from [strikeout: the] a split fife & a broken drum O it is delightful. Who would exchange the life of a soldier in a winter campaign for the palaces of of a king. We had a delightful time here last night the rain poured down in torrents & the wind whistled by as if he were hurrying on to contermand some wrong order which might do some michief & taking our tent for a baloon he took it with him together with about 3 / 4 of the tents in the regiment but we have been out in service long enough to look on the bright side of any thing & so we look at the brightest side of our blankets but some could not stand it the captain was one of these them the air was filled with music such as the drunkard sings when mad. This also was a delightfall time I never shall forget it. Only one thing marred the pleasures of the evening entertainment & that was we were deprived of female society to enjoy the music with us it far exceeded any of Madam Rive briliant concerts
Orders come to march
I must close
Your broth
E R Montfort
(Write often)

E. Marthell, letter to [E.R. Monfort], 26 Jan. 1863, folder 5, box 1, Elias Riggs Monfort Collection, Duggan Library, Hanover College (Hanover, Ind.)
Transcription by Lindsey Kosek, HC 2021.

Office of Com. Subsistence

Folly Island, SC.

Jany. 26 1863

This is to certify that Captain E.R. Monfort Co F. 75 Rgt. Ohio vols is free from all indebtedness to this Department for Subsistence stores.

E. Marthell

Capt & CSV.
II Brg. Gordon's Div



Elias Riggs Monfort, letter to Maggie Monfort, 2 Feb. 1863, folder 3, box 1, Elias Riggs Monfort Collection, Duggan Library, Hanover College (Hanover, Ind.).
Transcription and research by Kirstin Biggs, HC 2017
Army in the field near Bell Plain
Feb 2nd 1863
Dear Sister,
Yours of the 21st and 22nd came to hand in due time. We have had a terrible time for two or three weeks marching about in the mud & rain. With no place where to lay our heads & not knowing whether we would march in the next hour or not. We march to morrow to Brooks Station. You have a mistaken idea of our laying quiet because the Army is appearantly doing nothing. We are not in winter [ie winter quarters?] nor yet likely to be this winter I wish we were in the Army of the South west as we then would have a milder climate to contend with which would be much pleasanter & we would in nearer communication with home & friends. As well as a better opportunity of displaying our abilities and distinguishing our selves.
Captian Friend and Dr Straden arrived last night safely. I happy to hear that Col Reily has such an oppinion of me I hope I merit it. I have the satisfaction at least of knowing that I have always tried to do my duty. And often under very trying circumstances. Col Reily is man who never speaks anything but the truth. Never flatters & you I think can rely that on all he says, he means.
Col Constable I think did as much as any one man could do to injure this Regiment. He has avowed his sentiments in reguard to the presidents proclamation far & wide among the men & said & does more to discourage them than you can imagine. Saying that he pittied them because they could not get out of the servise & glorying in his own advantage over them & saying that he would go if he was dismissed in disgrace. That he was willing to be a marter to his princepals & his opinion of freedoms of speech
As far as I am concerned I can heartily endorse any thing that the President will proclaim. I am in the Army now subject to his orders & will obey them. Whether right or wrong is none of my business. A subordinate officer in the army has no right to have an opinion or pass a remark on the orders of Superior officer. His duty is only to obey. Grumble you may but go you must. Please tell George to write to me as I have not received a letter from him for two months & & I am anxious to hear from him.
Adjt Hopper's resignation has been returned & Lieut Col Constable & Capt Dishelen are suspended. A punishment in the Army much worse than to be under arrest & they feel it bitterly. The Col says he is moraly & politicaly damed & He does not care what they do with him now. I wish they would dismiss them & send the Col to Fort Lafaette as a political prisoner until the war is over
I think there is some movement on foot now from the looks of things. But can not tell what.
I hope you will keep up your style of writing also tell me all the little scrapes the girls get into as they are interesting to me. The roads are in some places three feet deep in mud & almost impassable we can not make but a fue miles a day. If the teams make three they think it good traveling with six horses or mules to a wagon.
But I must stop so Goodbye
Your Broth
E. R. Montfort
Feb. 3rd 1863

Elias Riggs Monfort, letter to Maggie Monfort, 25 Feb. 1863, folder 3, box 1, Elias Riggs Monfort Collection, Duggan Library, Hanover College (Hanover, Ind.).
Transcription by Dakotah Norman, HC 2017.
Brooks Station Feb 25 [1863]
Dear Sister,
Your kind letter come to hand some time since but oweing to the inclemency of the mud freequent & severe duties to perform together with my being now in command of the Company with no Lieutents to assist me as Capt. Morgan is now on furlough. I have sufficient excuse I think. I have been very unwell with sore throat &c. at which has been a great source of annoiance to me. Lieut Genl Hooker has assumed command of the army of the potomac we have had to submit to the most minute inspections of all Company property and I have had numerous reports to make [which?] takes time and trouble.
the weather has been very disagreeable indeed since the new year set in and I am afraid it is an ill omen I can not see for the world what has induced any one to report me a captain. Captain Morgan is not a Major nor yet likely to be for a long time as Captain Harris is senior to him. You may expect a long time before you see me home on furlough as the major. Ruby says that the married men must go first and I think by the time they all goes home the order will be countermanded so do not look for me at all for I will submit to orders what ever they may be without complaining.
I am very sorry to hear of Cousin Hattie's death I deeply sympathize with all friends. I have come to the conclusion that there are more people die at home than in the army.
I will write again in a day or two I will have more time.
Remember me to all
Your Affect Broth
E.R. Montfont

George Spinning, letter to Elias Riggs Monfort, 6 May 1863, folder 15, box 1, Elias Riggs Monfort Collection, Duggan Library, Hanover College (Hanover, Ind.).
Transcription and research by Kevin Christie, HC 2018.

[Note: letter written on black-bordered stationery]


Camp Sturges near Ft Riley
Riley Co Kansas May 6th 1863
E.R. Monfort
Dear Cousin:
Your very welcome letter arrived yesterday, and I was glad, very glad, to hear from you: but pained to see, many unbecoming words used.
Do not suppose that I am commencing a monotonous lecture on the habit of using profane language, for I intend no such thing. Seven long years have passed since we grasped each others hands, [damaged: to part?] perhaps, forever. We have grown from youth to manhood and yet it seems but a short time since we made "Old Ireland's woods" ring with merry shouts as we went to school together. You use to beat me in "Rays third part," but I excelled you in "Amo, Amas Amat," I do nto [sic] think that my influence small as it is, an induce you to vary from any course you see fit to pursue; but, as the early friend of your boyhood I cannot pass a fault in one whom I love, and am connected with, without giving it a friendly(?) touch. You wonder what position I occupy in the Army and how I look. I cannot give you a description of the "cut of my countenance," but the enlistment roll says that I am dark complected, dark curly hair [strikeout: and] eyes, dark. twenty one years old and five feet eleven inches high. Have been in active service for five months -- service, nearly eight. Never been wounded, but my horse "Barney" was, wounded badly by a bayonet, He is the best horse in our regiment.
I have rode him seventy five miles a day several times, and on a ten-mile-heat, he cant be beat in the west. He is a horse, clean limbed, well muscled, proud and fiery as any I ever saw. I might write forty sheets of adventures that are small and insignificant in comparison with many, but they are of lifelong interest to me; some of [insert: them] I never can think of without a shudder. There is no bright side to this war. No matter how gay we may be, when surrounded by our friends in camp, the many revolting incidents connected with an active campagn, will cloud the lightest heart.

From the depths of my heart, I wish it was ended. though I will not go out of the army until peace is declared I intend going to Hanover when it is over.

Mother reced a letter from Ike not long since. I think he will come home in June. Saw Uncle Frank not long since. He is the same, the very same, not changed a bit. Our life since we have begun in earnest to fight has been different from any I ever imagined. We have had a concealed enemy to deal with, and our men have often been shot down. When we could not tell where the balls came from. But I must draw to a close.

Direct to Geo L. Spinning Leavenworth City, Kansas. Co. C. Jemisons 1st Kan. Cav. Care of Col Anthony.

With many desires for your success and health

I remain your Affectionate Cousin

Geo L. Spinning.

Elias Riggs Monfort to Margaret C. Monfort, 8 May 1863, folder 3, box 1, Elias Riggs Monfort Collection, Duggan Library, Hanover College (Hanover, Ind.)
Transcription and research by Asumi Oba, HC 2018.
Hd Qts 75th Regt OVI
May 8th [added in pencil: /63]
Dear Sister
Since I left home we had a very active time we left camp at 4 A.M. on Monday Apr 26. marched three days 60 miles around in the rear of Fredericksburgh where occurred one of the most desparate fights of the war where in 15 minutes we lost 6 commissioned officers Col Reily wound & prisoner Adjt Gano missing Capt Morey & Capt Watkins wounded & in the hands of the Enimy Lieut Haskell wounded severely Lieut Crozet missing, And one hundred & thirty five men killed wounded & missing the old 75th looks thin Genl McLean shed tears [strike out: the other] yesterday speaking to the regt
Col Friend Capt Keckler are Safe & well
Excuse Haste
E R Montfort
I am now acting Adjt now
[added in pencil: Chancellarville]

Joseph Monfort, letter to son, 3 June 1863, folder 5, box 1, Elias Riggs Monfort Collection, Duggan Library, Hanover College (Hanover, Ind.).
Transcription by Zeke Porta, HC 2021.
Glendale June 3, 1863
Dear son,
Your letter to Margaret received this morning speaks of resigning or the possibility of it. I would not do any such thing. If you do, you will regret it, I am quite sure, unless you have some better cause for it, then you have at this time. You can get away from there in some other way. You can perhaps get a majorship in a colored Regiment if you want it. Would you desire it, I would have no objections. The negroes are to do a great part of the work hereafter. I think you may get to be a major of your own Regt yet. I should not object to others resigning as it puts you up the higher on the scale. the men who have resigned had not attained much reputation. Harris & Morgan have long been regarded as the first men in your Regiment, & no Lieut. has stood higher than you. Would you like to get a place with Genl McLean? I think he will find a place for you if you desire. If he succeeds in getting the 45th out here for provost duty, you will have a pleasant berth here.

What was the order against the 25th you wrote of? Genl McLean thinks it must be something done since the fight of Chancellorsville & nothing before he left. I think of seeing General McLean tonight & trying to get something from him in your favor & then I will go to [looking?] & try to get your promotion to be Captain. After that no doubt you can get on some Division Staff, Especially if your Regt is brought west, if you wish—

I want you to write me in full in regard to all my enquires in this letter & in regard to those in a letter I sent you yesterday.

We are all well & have the prospect of a good commencement. I wish your Regiment could get sent here by that time & it may be it can. Frank will come hence & then return again to Crawfordsville & Margaret will go with him.

Your Father
JGM


Sam Ruckman, letter to E. R. Monfort, 8 June 1863, folder 15, box 1, Elias Riggs Monfort Collection, Duggan Library, Hanover College (Hanover, Ind.).
Transcription and research by Zach Barnes, HC 2018.
Franklin, Ohio
June 8th 1863,
Lieut E R Montfort
Old friend,
I will now try in my feeble way to fullfill the promise that I made you when I last seen you, my health is on the mend slowly, but my mind is ill at ease, the reasons for this are as follows, some one in the seventy fifth has taken the pains to write an anonymous letter to one of the rankest copperheads in the county, and in this misterious manuscript I am branded as a coward, he states that at the battle of Chancelersville I ran and left my regt and company, and allso that in order to keep from rallying with the rest of you I pertended to the provo guard that I was wounded and in that way passed them, now I think you know wheather that was the case or not, for you was the first man that seen that I new when we were trying to rally them men back by the artillery, where Genls Howard and McLean were. Capt Morgan was there all so, now I wish if you please you would [strikeout: please] write soon and in your letter state wheather such is the case or not, for such a report is not only a stain on my character [but] it allso rests on my family, and the copperheads make themselves very buisy in circulateing it for when I was at home in the spring I denounced them in the biterest terms. I allso wrote to Capt Morgan about the same thing, no doubt there will be some of my friends that will write to you or Capt Morgan concerning the valitity of the report they do not like it because it came from the copperhead source.
hopeing this may find you and all of my friends in the best of health and spirits I will close write soon yours truly
Sam Ruckman

D. L. R., letter to [Hannah Riggs Monfort], 9 July 1863, folder 5, box 1, Elias Riggs Monfort Collection, Duggan Library, Hanover College (Hanover, Ind.).
Transcription by Ashley Mull, HC 2022.
Elmira, July 9th, 1863,

Dear Sister H,

Two weeks ago Bro. Potter & his sister & Abby surprised us with a visit, spending two days with us very pleasantly to us, & I hope also to themselves. The day they arrived was the day of the commencement at our Female College. We attended that, & called in the evening on Miss Thurston, & the next day Mr. P. & I visited her again, & had the pleasure of meeting Mrs Ricord, who has been with her several months. I showed them your portrait & that of sister P. They enquired with a good deal of interest about you both, & seemed to take a great deal of interest in your well-being & well-doing.

Mrs Ricord's son John was, I think, at one time chief justice, or chancellor of the Sandwich Islands, she shewed us the constitution & code of laws of those Islands, which he compiled. They were printed in Honolulu. Her son Frederick I saw also last week, at the closing exercises of Miss Thurston's school. He is a very fine looking man; about the height, but not so fleshy, as S. D. Potter, with dark hair & beard. He is State Supt of Common Schools, for N. Jersey. Mrs R. went home with him the next day. She, by the way, is a millenarian, & an admirer of Dr Cumming.

My health has been very poor, for the greater part of the last ten months. I have had during that time, some of the severest paroxysms of asthma that I have ever had, & have been confined to the house, probably, as large a share of the time as I ever was, since I was afflicted with the disease. I was better during the time Mr P. was here, & for a few days previous & since, than I have been for some months. But for the last two of three days have not been so well. I am just now using a medicine which was brought me by a good "mother in Israel" here, which she said had greatly benefitted her brother. I think is has benfitted me, but I wish to try it further.

I have looked over the pamphlets which Bro. P. brought me of Dr Wolfe's, but am not yet decided what to do in the matter. When I decide I will write to Bro. Monfort, as Directed by Bro Potter. If I could be restored, so as to be able to carry on a small farm, (for I despair, in any case, of ever being able to preach again,) I should feel it to be an occasion of profound gratitude to God, & I should hope to shew that gratitude by my works. I feel that I have not accomplished much, considering all that has been expended on me, But could my health be once more restored, I should hope not to be idle, but to work still, in some department, in the vineyard of our Lord.

I thank Bro. M. very much for the kind token which he sent me, $10. I have no reason to expect that I shall ever be able to repay his kindness; but I pray that the Lord may reward him. Had it not been for the kindness of relatives & of christian friends, I should have been in sore straits, often, during the last four years.
E.A. is quite unwell: has been more or less so for several months. I do not understand her case, but cannot help fearing something serious. She has a very bad cough, & for some time past her throat has been badly cankered.

I recd last Friday a letter from E. dated 1st at Oorfa (Ur of the Chaldees) Abraham's birth place, & 2d at Diarbehir [&?] he attended the ordination of a native pastor over the church there. The young man had been one of his students, some years since, at Bebek Seminary.

E.A. sends love. The family are pretty well, all except me & her, & Edward. Edwd is at present on detached duty, as orderly to Capt Livingston the commandant of this port. The Dr does not think it prudent for him to go back to his regiement, as he is not able to do full field duty, & he has procured for him this post. You are no doubt now very anxious about Elias. May you soon hear that he is alive & well.
Your brother,

D.L.R.


J.W. Monfort, telegraph to J. G. Monfort, 9 July 1863, folder 5, box 1, Elias Riggs Monfort collection, Duggan Library, Hanover College (Hanover, Ind.).
Transcription by Raven Poehlein, HC 2022.
[on telegraph form:]

To Rev. J. G. Monfort

July 9 1863
By telegraph from Gettysburg via [Nashville?]
San Com [Sanitary Commission]

Elias wounded severely Come immediately

JW Monfort

[sfv?] S Com [Sanitary Commission]

J.G. Monfort, letter to Elias Riggs Monfort , 12 Aug. 1863, folder 5, box 1, Elias Riggs Monfort Collection, Duggan Library, Hanover College (Hanover, Ind.).
Transcription by Lily Bryant, HC 2022.
August 12, 1863
Dear Son Elias,
This came yesterday & I thought I had better mail it to you rather than wait to bring it when I go, I am not yet sure whether I will start on thursday night, or on a Sunday night or rather on Monday morning about 1 oclock from Dayton after spending the Sabbath at Carlisle Station. It will depend upon a letter from your mother which I suppose I will get in the morning. My idea is that you can be brought home on a good bed without danger. If when you get to Pittsburgh you find you are not able to go by rail, you can take a boat for Cincinnati.
[Mayant?] has been a little unwell for a few days with her old difficulty in her stomach but is rather anxious. She is very anxious for you to get home & she says she will do the nursing, fanning,, &c

We have more applications for pupils, than we ever had at the same date. If they continue [inserted: to the beginning of the time] we shall have a good school. We have about sixty boarders which furnishes a a good income for the vacation.
Frank is canvassing the city for new subscribers to the Presbyter & has obtained 26 in three days. He will probably get in [three?] weeks 100 & [thusly earn?] $50. Love to all in your house.

Your father JGM


Harris, letter to Elias Riggs Monfort, 26 Aug. 1863, folder 15, box 1, Elias Riggs Monfort Collection, Duggan Library, Hanover College (Hanover, Ind.).
Transcription and research by Drew Shafer, HC 2018.

Headquarters 75th 0. V. I.
Morris Island Aug. 26th 1863
Capt. E. R. Monfort.
Dear Sir;
I am very sorry to learn by your letter that you are unable to pick out the name of the enlisted man of the 17th C. V. who received your pocket book the night you were wounded. I still have a hope that all will be right yet and that the fellow will turn up somewhere with the money
You speak of your leg doing well. I am glad to hear it. I hope you are at home ere this, under the "Paternal Roof," where you can be well cared for. I trust that in due time you will be able to join us.
No doubt you were surprised when you heard that the 75th had left the Army of the Potomac and joined the Army of South. Our whole Division is here. We have a new Div. Commander and five new regiments in this Div. alone. The whole Corps had been reinforced by quite a number of Gen. Dixes men from the Peninsula. It needed it for it lost heavy at Gettysburg. What our fate is to be here I dont know. So far they have been fighting ever since we have been here. The 75th went in last Thursday and lost one man killed and quite a number wounded.
I dont know when our fighting will end as a Regt. Not until we are all gone I suppose. We have but about one hundred & fifty men present and four Commissioned Officers: Capts. Mosey, Fox Lt. Haskell and myself. Lt. Ladly is home after Conscripts.
We are encamped on the beach close down to the water's edge and no great distance from Ft. Wagoner. It is at this Fort that the fighting has all been done at. The range is too long to fire over Wagoner at sumter with the effect desired. And yet the success so far has been good for the South side of the Ft. is now a huge mass of mins [mines].
But it ought to be for some of our largest guns have been playing on it for the week past. Two of these guns throw a three hundred pound shot.
An assault will be made on some of these Forts soon no doubt and take them by storm. I hope they will.
I am not permitted to write any of the minutia of the [siege?] or I would gladly write many things that would be of great interest to you.
Aug 27th My writing last night was brought to a close very suddenly by the Brigade being ordered up to the front. We lay there under our guns all night in the sand. I don't think I ever saw it rain harder or more steady in my life than it did all night long. We were too much concerned about our enemies to notice it much. We advanced our lines to within a few yards of Ft Wagoner last night. One of the Regt. made a charge and took about 70 prisoners. Many were killed on both sides. The 75th lost none.
You will be happy to learn that we have thrown away the Shelter tents here and the [Companion?] tent, or, "A" tent in their place. This is a happy change indeed for the men. [We have?] all the wall tents we want and can have all the baggage we need -- so you see in some respects we are better off here than in the Army of the Potomac. This Island is very unhealthy. Many of the men are now sick. Some of the Regts that have been here for some time are nearly half sick. This is rather discourageing but I think we will whip the "Rebs" and better our condition by moving further inland.
I have not time to write more.
The Offices [officers] join in sending you their respects and hope that you may soon be able to be with us.
Wrte Often and direct to 75th OVI Ames Brigade Morris Island Dept of the South
I am sir
Most sincerely
Your friend
Harris
P.S. We are to be reviewed tomorrow by Gen Gilmore
H.

G. A. Evans, letter to Elias Riggs Monfort, 9 Oct. 1863, folder 6, box 1, Elias Riggs Monfort
Collection, Duggan Library, Hanover College (Hanover, Ind.).
Transcription by Alex Fanning, HC 2022
Gettysburg Oct 9th 1863
Dear friend Capt. Monfort
Thinking you perhaps would like to hear from this quarter of the globe, your humble servant plucks up his courage and "shooing" away all fears ( I like to have said flies) without aid of a fan, I attempt in my feeble way & manner to address one whom I respect and would be [crossed out: would] hapy to see -- I have been sick in the hospital ever since you left tho' I am better now & hope so to remain.
I have thought frequently of you since I have been sick and of late have felt quite anxious about you as you have not written for so long a time but still hope that you are recovering, and getting so as to enjoy life as in days past. My wife has been out here two weeks and we have been stopping at our old home, Mrs. Thompson's, I did not think, at the time you left, that I should remain in old Gettysburg so long but so it is and I am unable to say when [crossed out: I, or how soon] I may leave, tho' I expect to go to my Regt soon.
Sarah Monfort is sick and has been for a week unable to sit up any, she appears to be growing weaker, and the symptoms indicate bilious fever and the Dr says it is bordering on typhoid. the rest of the family are well except Jane is about worn outwith hard work.

Mariah is now away teaching in the country, it has been keeping one week and to continue five months in all -- Fall and Winter,

[Cassatt Nealley?] is here yet and a Mr Stahl is stopping here who has the care if the Gov' horses

Capt Wiltbank is married and has his lady here, I suppose they have very nice time, as they have two "American gents? of the African descent" to wait on them.

As I am weak and my hand my hand begins to trimble I think it best to come to a perod and let you rest from reading such scribling as this
Give my regards to your Father and Mother, Brother & sister. Write soon and let us know how you are getting along

From your old nurse

G A Evans

[On the back:]

Geo. wants me to write some to help finish out his epistle which he evidently and perhaps not wrongfully consider a lean affair. I don't know how to write to one I never saw, yet one thing I can say is that I sincerely hope your wound is better and that the world will yet hear more of "Capt Monfort of the 75th Ohio"
The family with whom G and I are now staying are very kind people. I hear them speak of you every day and wish you were here to enliven them when dull or desponding - The younger daughter is now teaching at Green Mount. Adams Co, and would be glad, she and, to hear from you - The other members of the family are now so engaged as to be unable to write, as the widowed sister is sick and no help outside the family - The late battle brought them much work, they say - and the bad air and other difficulties under which they have labored has not tended to strengthen their general health, I fancy.. I think that the people of G ----- would protest against another rebel raid - "having seen and been satisfied." Even "sesesh" sympathizers would much rather their favorites in sentiment would keep at a proper distance -- especially when they clamorously call for food and seize their fat oxen, hogs and chickens and slay them without remorse of conscience or even compensation for the same in any shape - The politics of the people seem to be for and not against the U.S. There was a large and enthusiastic meeting at the C House last evening to hear a Miss Dickinson - The audience was however disappointed as she did not arrive in season to speak. Senator Wilson of Mass improved the time and amongst the rest -- gave an elaborate explanation of the Enrollment Act - which has been the cause of so much dissatisfaction He said it had been knowingly and maliciously misconstrued

"Ben," letter to Elias Riggs Monfort, 16 Oct. 1863, folder 6, box 1, Elias Riggs Monfort Collection, Duggan Library, Hanover College (Hanover, Ind.).
Transcription by Zoe Mann, HC 2022.
"Folly Island" S.C.
Octr 16th 1863

Capt Monfort

Dear Sir

I arrived here on the 14th after rather a tedious trip, tho' pleasant with all. As I have just received intimation of the mail leaving to the morning I thought I would send your Muster Out and Muster In Rolls, as your's and Mulharens are together be pleased to keep them for reference for his friends, should they need them.

Let me hear from you with all news at your earliest convenience and I will respond with full detail when I have more time. Sprung's Commission has arrived, but General orders will not allow 2nd. Lieuts to be mustered until the Regt is filled

Kind rememberances to Mr Mrs and Miss Montfort.

All the Boys present are well. Co. F numbers 20.

Yours with the highest regard

Ben


Edward H. Riggs, letter to Elias Riggs Monfort, 21 Oct. 1863, Elias Riggs Monfort Collection, Duggan Library, Hanover College (Hanover, Ind.).
Transcribed by Courtney Anderson, HC 2021.
[Printed stationery: U.S. Mustering and Disbursing Office, Elmira, N.Y., ]
[date supplied in blank: Oct. 21st 1863

My dear cousin Elias
Sir in a letter which I received from cousin Margaret Potter I heard that you had arrived at home but she did not mention how you was getting along with your wound, so I could not put off writing any longer. I should have written before but I knew not exactly where to direct my letters, I truly sympathise with you in your affliction and hope that you may soon be able to be around again. At present I am orderly for the Mustering & Disbursing Office of this Post. I have been here now all summer till now but do not know when I will be sent back to my Regt. The family have not been very well this summer and fall Father and mother have both been quite unwell and not able to do very much and I hardly think they will be able to much more for the family, Sister Mary is just getting over an attack of typhoid fever, all the rest are pretty well. Did you ever receive a letter from me while you was in western Virginia. I wrote one to you but don't know whether you received it or not probably it was not directed right. You better believe I have good times since I have been here I have had & good time generally and ought to be pretty well and hearty by this time. In what Corps, [Div?] and Bgd. is your regiment I would like to know so that if I should come any where near you I should be able to find you and also to write you if you should be able to go back. When you write give all the news and tell me all about the College and Glendale. Give my love to all the friends and write soon
Your aff
Cousin Edward H Riggs
Private, Co (A) 101 Regt
N Y V
3 Bgd, 1st Div, 12 A.C.

Isaac H. DeLong, letter to "Soger," 29 Oct. 1863, folder 6, box 1, Elias Riggs Monfort Collection, Duggan Library Hanover College (Hanover, Ind).
Transcription by Sushi Garcia, HC 2022.
[printed stationery: Head-Quarters Department of the Cumberland]
[date supplied in blank: Chattanooga, Oct. 29, 1863]
My dear "Soger" friend,
Our mutual friend Fitch informed me several days since, while I was making a very pleasant visit to him, of your pres't whereabouts and condition at this time and I venture to "drop these few lines expressing at the same time both my congratulations and sympathy. How many changes have taken place since we parted in old "Camp "What d'ye [do you] call it" away up in the mountains in Western Virginia.

I have been separated from the regiment ever since we came into Kentucky in /61 on detached service in the A.A.G. Dept. Fitch and I were together all last summer with Genl. Nelson, and when he [inserted: Fitch] was appt. Lieut. I was transferred to duty with Genl. Rosecrans, and have always enjoyed military life of this style very much. Among your old companions of the 6th O.V. I [Ohio Volunteer Infantry] on duty here are Jimmy Reynolds & Cist, Both on duty in the A.A.G. Dept.

Just now we are living on "terribly short Govt. rations and enjoy daily & nightly an exhibition of fireworks not altogether pleasant. Fitch is encamped about a mile from here and I visit him very frequently. He was trying to write a letter to you the last time I saw him. Did he succeed?

I hope to be in Cincinnati about Christmas and a sight of that old city after two; very near three years absence will be rather edifying.
Good bye. I hope you will get along famously and for the sake of "Auld Lang Syne" that you write me a few lines when you feel in the mood.

Your Friend
Isaac H. DeLong



James A. Hardie, letter to Isaac W. Montfort, 10 Dec. 1863, folder 6, box 1, Elias Riggs Monfort Collection, Duggan Library, Hanover College (Hanover, Ind.).
Transcription and research by Skylar Butler, HC 2022.
[printed stationery: War Department, Washington City]

[date supplied in blank: 10th Dec. 1863
Isaac W. Montfort.

Indian State Agent.
Washington D.C

Sir,

In reply to your letter of this date, asking permission to pass our lines for the purpose of conveying tents, clothing, and provisions to the Indiana prisoners confined at Richmond, the Secretary of War directs me to say that permission is hereby granted you to pass our lines and return [inserted: for this purpose] and that the presentation of this letter to General Butler and Genl. Meredith will secure you the necessary facilities.

Very Respectfully,

Your obedient Servant

Jas. W. Hardie
Asst Adj Genl


James A. Crozet, letter to Elias Riggs Monfort, 16 Dec. 1863, folder 6, box 1, Elias Riggs Montfort Collection, Duggan Library, Hanover College (Hanover, Ind).
Transcription by Jean Claude Diehl, HC 2022.
Folly Island, S.C.
Decr 16th 1863

Dear Friend Montfort,
Before returning to the Regiment I wrote several letters to you and felt some surprise at receiving no reply, but I now know that you were so situated that you could not answer.

In commencing this letter I am almost at a loss to know what to say, for I assure you that news is very scarce here, and, in such an isolated spot, one becomes terribly rusty. Indeed I am forcibly reminded of Alexander Selkirk's possessions -- although there are not many of the Fowl [sic] or brute creation "from the centre all round to the sea." The soil here is very sandy and, judging by our appearance after drill or duty, soily sand, and if we do not become men of grit during our sojourn in the region, then -- we had better go home -- at the end of our term.

I suppose you know that I was quite sick in the Hospital at Annapolis Md -- well, the Surgeon in charge decided on giving me a leave of absence -- in order that I might change climate -- to prevent permanent disability. He came to this conclusion just at the proper time, for I had been home only about 8 days, when I was confined to the house (almost helpless) with a severe attack of Articular rheumatism. Of the latter I am not yet well -- and am under medical treatment here.

Col. Morgan is improving slowly -- but steadily -- in health. Lt. Ford was sent (a few days ago) to Beaufort, for treatment -- his wound being still unhealed. Captains Haskell -- Mosey -- Rannells and Lieuts Alhers -- Ballentine -- Ladley -- Hall and Crozet are here and reported for duty -- The regiment is small -- there being only 266 Men present for duty. All are desirous of being remembered, to you, in this letter.

Our Camp is situated on, or, near the beach and should old Neptune become offended, our musings by day and night dreams are disturbed by his continuous war as the "bounding billows" are swayed to and fro, until their strength is lost on the sandy shore.

Our boys are busy, to-day -- stockading the front of our Camp -- to keep the breakers from it.

Col Harris has just come into my tent, on being informed that I was writing to you -- he requested to be remembered kindly and said it will not be long before he writes to you.

Duty warns me to brevity and I must hasten to request an early communication from you -- promising that my next shall not be such a miserable scrawl.

Remember me kindly to any who may be true enough to feel interested in my welfare -- but to Capt. Montfort you need say nothing, as he already knows that I am.

Very Sincerely
Your Friend
Jas. A. Crozet

PS
Address me
75th O.V.I.
2d Brigd Gordon's Divn
Department of the South
Folly Island
S.C.

PPS
"Excuse lack of Postage"



Hanover Historical Texts Project
Hanover College Department of History
Hanover College Visitor's Page
Please send comments to: historians@hanover.edu