Information for Soldiers Going Back to Civilian Life
FOREWORD
Our country was founded by men and women who were willing to fight for its freedom. It has remained free because, when the need arose, new generations were willing to fight and, if necessary, to die for what they loved. Our liberty is a precious thing. By your service in this war you have done your share to safeguard liberty for yourself, for your family, and for the Nation. You have helped to preserve it for those generations yet to come. This booklet, giving several sources of information and assistance for those discharged, is for your guidance. Numerous privileges are mentioned. They are yours. You have earned them, just as you have earned the respect and gratitude of your fellow citizens. When you return to the duties and responsibilities of civilian life, you take with you the good wishes of those who were in the Army with you. You can always be proud that you were once a member of America's armed forces and that you served with honor. . . .
WHAT TO DO BEFORE YOU LEAVE CAMP OR HOSPITAL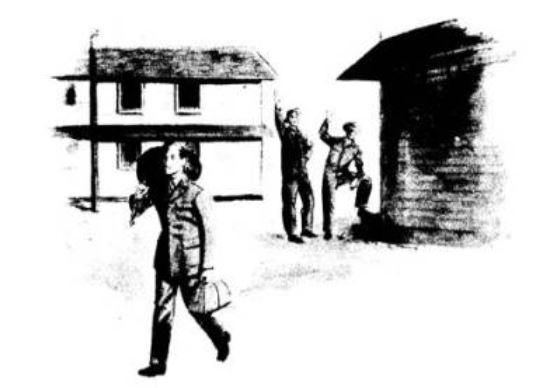 Put Your Affairs In Order. Before you entered the Army you took care to see that your civilian affairs were taken care of before you put on a uniform.
Now that the process is reversed and you are about to leave the Army, it is equally wise to see that your military affairs are in order. These are usually matters of routine but important just the same. For instance, be sure that you do not keep clothing or equipment that must be returned to the supply officer. If you owe money at a club, mess, library, or other facility, see that these bills are settled. Turn over any public funds or property for which you are responsible. If in doubt, your unit personnel officer or the hospital registrar will put you straight.
Your supply sergeant or first sergeant will tell you what items of clothing you are allowed to take with you. If, when you get home, you wish to return any of them to the Army, simply take them to any Railway Express office and send them, at Government expense, to The Quartermaster of your nearest Army post.


WEARING YOUR UNIFORM AFTER DISCHARGE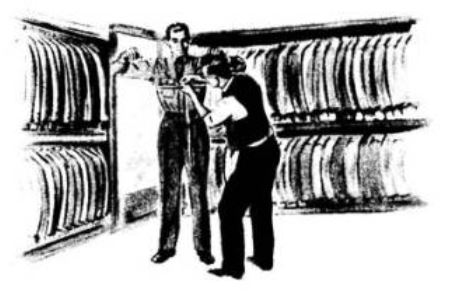 You are entitled to wear your uniform from the place where you receive your discharge to your home, provided that you go there within 3 months of the discharge date. Remember, on the journey, that civilians will be unable to distinguish between you and those who are still in active service. So continue to act in such a way as to reflect credit upon the uniform of your country. To do otherwise would not be playing fair with those who are still serving. You may also wear your uniform on ceremonial occasions, such as parades or meetings of veteran or other military organizations. In such cases you may wear the uniform of the highest rank or grade that you held during the war. . . .
Additional Information for Soldiers Going Back to Civilian Life
Education. Educational aid for veterans is available from the Veterans' Administration provided: (1) you were discharged under conditions other than dishonorable; (2) you were not over 25 at the time you entered service, or can demonstrate that your education or training was interrupted or interfered with by your service; or you desire a refresher or retraining course; ( 3) you served 90 days or more (not counting the time in Army Specialized Training Program or Navy College Training Program, which course was a continuation of a civilian course and was pursued to completion, or as a Cadet or Midshipman in a Service Academy) or were discharged or released from service because of an actual service incurred injury or disability; and (4) you start such education not later than two years after discharge or end of war (whichever date is later).
Length of training. One year ( or its equivalent in part-time study). If you complete these courses satisfactorily, you will be entitled to additional education or training not to exceed the length of time you spent in active service after 16 September 1940 and before the end of the present war (not including ASTP or Navy College program). No course of education or training shall exceed 4 years.
Expenses paid. The Veterans' Administration will pay to the educational or training institution the customary cost of tuition, and such laboratory, library, infirmary and similar payments as are customarily charged, and may pay for books, supplies, equipment and such other necessary expenses (exclusive of board, lodging, other living expenses and travel) as are required. Such payments shall not exceed $500 for an ordinary school-year. . . .
Types of educational institution. Public or private, elementary, secondary, and other schools furnishing education for adults; business schools and colleges; scientific and technical institutions; colleges, vocational schools, junior colleges, teachers' colleges, normal schools, professional schools, universities, and other educational and training institutions, including industrial establishments. . . .
Loans for Homes, Farms, Business. These three types of loans are available to veterans who served on or after 16 September 1940 and before the end of the present war, and who are discharged or released under conditions other than dishonorable, after active service of 90 days or more, or because of service-incurred injury or disability. Applications must be made within two years after discharge or separation, or two years after the end of the war (whichever is later), but in no event more than five years after the end of the war.
The Administrator of Veterans' Affairs will guarantee up to 50% of any such loan or loans, provided that the amount guaranteed shall not exceed a total of $2,000. The Administrator will pay the interest on the guaranteed amount for the first year. Loans guaranteed by the Administrator bear interest of not more than 4% per year and must be paid up within twenty years.
Although the conditions vary somewhat for each type of loan, the general requirements are that the loan must be used for the purpose specified, that the terms of payment bear proper relationship to the veteran's anticipated income and expense, that the purchase price not exceed a reasonable normal value, that the property be useful and reasonably necessary, and, for farms or business loans, that the veteran have such ability and experience as to provide a reasonable likelihood that he will be successful. Detailed information is available at any facility of the Veterans' Administration.